Separation anxiety is an increasingly common behavior issue, especially for pandemic puppies and dogs who got used to their people being home during lockdown and work-from-home. Separation anxiety in dogs can be stressful for dog owners, but with patience, training, and treatment, it is possible to help dogs overcome these behavior issues.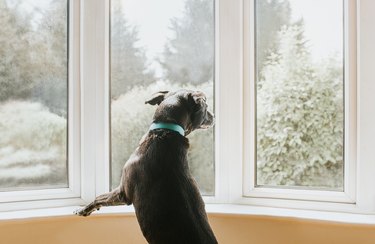 If you are a pet parent working with a dog who is showing signs of separation anxiety, there are a variety of products that can help your dog to be more relaxed in your absence, and less worried about you leaving. Although these products can help calm dogs with minor separation anxiety, they aren't a cure-all for dogs with severe symptoms.
What to consider when purchasing products for separation anxiety
‌Symptoms:‌ When shopping for products to support your dog with separation anxiety-related issues, consider the symptoms your dog has. Do they engage in destructive chewing? Do they scratch at the front door? Do they bark or howl? The goal should be to provide your anxious dog with things that help them to relax and stay distracted from your absence. This may look like products to soothe and encourage relaxation, as well as products to keep your dog occupied while you're away.
‌Get Professional Help:‌ Separation anxiety is a stressful and serious behavioral issue for dogs and their families to deal with. If you have a dog with separation anxiety, or you suspect your dog has separation anxiety, don't be afraid to seek support. Dogs who struggle with separation anxiety benefit from working with an experienced dog trainer who utilizes positive reinforcement techniques. Dogs with separation anxiety may also benefit from working with their veterinarian, and in some cases, may need a referral to a veterinary behaviorist who can provide additional support for your dog.
‌Support Doesn't Replace Treatment:‌ Remember that while all these items can support a dog who is struggling with separation anxiety, they are not the same as a comprehensive treatment plan. In addition to ongoing training support, your dog's veterinarian, veterinary behaviorist, and dog trainer may suggest trying calming supplements, CBD, or prescription anxiety medication to help your dog work through their feelings of being left home alone.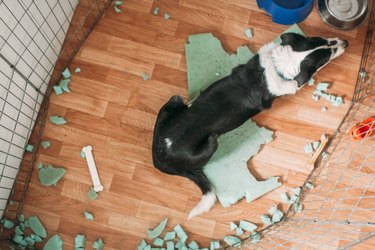 1. Moropaky Puppy Heartbeat Toy
Designed to simulate the pulsing heartbeat of other puppies, this plush separation anxiety relief toy can be helpful for young puppies just getting used to being away from their littermates. This toy can naturally soothe a puppy's anxiety as they start to adjust to separation by helping them feel that they are not alone. The plush toy's beating heartbeat heart fits into a pouch with hook and loop fastener to prevent your dog from being able to access it. This stuffed dog is battery-operated, and the beating heart can be removed when cleaning the toy in the washing machine.
2. Wholetones Pets Calming Music Speaker
Music has been shown to be helpful with calming and soothing stressed dogs. Playing music for your pup can also drown out distracting sounds, like apartment hallway noises or other dogs barking in the distance. This small but mighty speaker comes preloaded with 52 minutes of musical sounds (the songs will play on repeat until it's turned off) featuring the 396 Hz frequency, which may help with stress relief and healing. The speaker must be plugged in to operate—it comes with a power cable and an AC adaptor/wall plug—so it will never run out of juice while you're away from home. You can easily adjust the volume depending on your space and your dog's preferences, and there's a 'sleep mode' button that plays for an hour before the speaker turns off automatically.
3. ThunderShirt Classic Anxiety & Calming Vest for Dogs
Gentle, consistent pressure has been shown to be helpful in calming fear and anxiety in some dogs. This anxiety vest provides deep pressure (like a hug) to support dogs who struggle with separation anxiety. Available in sizes extra-extra-small through extra-extra-large, the ThunderShirt Classic has an adjustable hook and loop fastener closure to fit most dogs. It's made with durable, breathable, soft fabric that is built to last while keeping your dog comfortable and supported. The vest is easy to take on and off your dog and is washable when it gets dirty.
4. Omega Paw Tricky Treat Ball Dog Toy
Does your dog get anxious as soon as you start getting ready to go out? You might want to try distracting them with a treat-dispensing dog toy. The Omega Paw Tricky Treat Ball can be filled with your dog's kibble or some of their favorite treats. The simple design of this ball makes it easy to fill (there's an opening at the top) and easy for dogs to learn how to play with it. As your dog rolls the ball, bits of food or treats are released. The ball's exterior is soft and dimpled, so it won't scuff up your floors or furniture. It comes in three sizes: small (2.8 inches in diameter), medium (3.5 inches in diameter), and large (5 inches in diameter).
5. Wyze Cam v3 Pet Camera
One of the big challenges with addressing separation anxiety is not knowing how your dog is feeling or what they are doing when you aren't home. This budget-friendly pet camera allows you to view your dog while you are away through an app on your smartphone. The camera also can record up to three days of continuous video, so you can look back at footage to see what your dog was doing at different times while they were home alone. To help you address your dog's separation anxiety, this dog camera has motion and sound detection, and even sends a push notification to your phone if your dog starts barking. The camera also has built-in nighttime recording capabilities so you can see your dog no matter the light conditions.
One easy way to prevent separation anxiety, or to support dogs who are starting to become anxious about being left alone, is to make sure they have something to keep them entertained while you are away. The KONG Classic DogToy is made in the United States out of all-natural rubber and features a hollow center that can be stuffed with food. The toys are ultra-durable and customizable—stuff them with kibble, wet food, dog-safe peanut butter, or KONG's own line of treats (sold separately). Give the KONG Classic to your dog as you leave the house so they can be entertained by the slow-releasing food as they lick, chew, and play. (Bonus: Licking releases endorphins in dogs' brains to help calm them down and self-soothe.) For an added challenge, you can freeze the KONG so it takes longer for your dog to retrieve all the food.
7. ThunderEase Dog Calming Pheromone Diffuser Kit
This Adaptil diffuser helps calm dogs who struggle with stress and separation anxiety. The plug-in pheromone diffuser mimics a mother dog's natural nursing pheromones to reduce symptoms of anxiety. The scent helps dogs to feel calm, safe, and secure without the use of oral drugs or supplements. It's suitable for everyday use, or during thunderstorms, fireworks, and other stress-inducing events. The diffuser spreads the scent through your home for 30, 60, or 90 days before needing to be replaced, depending on which option you choose.
8. In Hand Clear Door Scratch Protector
Many dogs with separation anxiety will start to jump up and scratch at doors and exhibit other destructive behaviors. This scratch protector can shield your door from damage caused by your dog's nails. Opt for a protector with or without a doorknob hole, and two sizes options, 43 by 17 inches or 44 by 24 inches. It's clear to blend into any door and comes with 3M adhesive fasteners to keep it in place. To clean, simply wipe the door protector with a damp cloth.
9. Diggs Groov Dog Training Aid
For dogs with separation anxiety and who struggle to relax in their crates, this training aid can make kennel time more rewarding. Groov attaches to your dog's wire crate and encourages them to lick, releasing those feel-good endorphins. It's made with food-grade, BPA-free rubber and is dishwasher-safe for easy clean-up. You can smear the toy with dog-safe, xylitol-free peanut butter, wet food, or other spreadable treats. Also included is a freezer shell that allows you to whip up long-lasting frozen treats using ingredients like plain yogurt or bone broth. The nubby texture of the Groov makes it more challenging for dogs to get their treats, keeping them engaged for longer. It comes in six trendy colors and measures 5.9 inches long, 3.9 inches wide, and 2.93 inches high.
10. West Paw Zogoflex Toppl Treat Dispensing Dog Toy Bundle
If your dog needs an extra challenge when they are spending time on their own, try this stimulating treat-dispensing chew toy. You can purchase both sections of the Toppl separately, but opting for the bundle increases the difficulty level. To dispense the treats or kibble hidden inside the toy, your dog must paw or nudge it with their nose. It has an engaging, erratic bounce and even floats in water. The Toppl's interior cavity can be filled with treats and has ridges to make the activity more difficult. Pet parents can attach the two components by pushing them together and twisting. The toy is designed for moderate chewers and made in the United States. It's nontoxic, BPA- and phthalate-free, and can be cleaned on the top rack of the dishwasher.