Looking for a new protein to offer your dog? Cricket-based dog treats are experiencing a rise in popularity thanks to their limited, sustainable ingredients. Unlike dog treats made from animal products—think chicken, beef, or lamb—crickets require very little rearing space, and grow to be full-size in just two months. The insects consume far less food and water than their animal counterparts, and their harvesting produces considerably fewer greenhouse-gas emissions.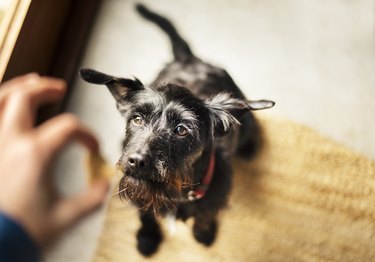 Like any other dog treats, those made from cricket protein come in a variety of styles from jerky to biscuits to soft training-size treats that can easily be broken up. Dog treats made from crickets are not only nutritious but also look and smell just as appetizing as the treats your pup typically enjoys. Cricket treats are high in protein, and are often meat- and grain-free, making them a good match for dogs with allergies.
What to consider when purchasing cricket dog treats
‌Sustainability:‌ Dog treats made from crickets are ideal for environmentally-conscious pet parents. The large-scale production of meat and meat-related products, which are needed to meet the demand of the pet food industry, is harmful to the environment. A 2020 study by the University of Edinburgh found that up to 2.9% of global agricultural emissions can be traced back to pet food production. Switching from meat-based dog treats to more sustainable cricket-based dog treats is an easy way to reduce your carbon footprint—plus, your dog probably won't be able to tell the difference!
‌Allergies:‌ For dogs who struggle with allergies, specific proteins—like beef or chicken—are most often to blame. The novels of cricket as a protein can be a welcome relief from their allergy symptoms. Many cricket-based dog treats are also grain-free and gluten-free. If your dog has food-related allergies, it's important to speak with a veterinarian before introducing new proteins.
‌Introductions:‌ If you have a dog with a sensitive stomach, be slow, intentional, and thoughtful about how you are introducing them to treats with cricket protein. Although cricket protein tends to be very gentle on a dog's digestive system and works well for dogs with allergies, cricket isn't right for every dog. If your dog sees a vet for their allergies, discuss adding cricket protein to your dog's diet before rewarding them with edible insect treats. Once you've gotten the OK, give your dog a small number of cricket-based treats to start and see how well they digest them.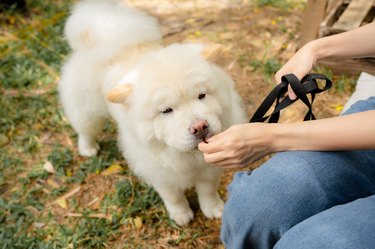 1. Jiminy's Cricket Treats Pumpkin & Carrot, 6-oz. Bag
These tasty training treats are made with cricket protein, pumpkin, carrot, and oats, among other ingredients. Jiminy's chewy cricket treats are high in omegas, fiber, iron, and vitamins. They're also a natural source of taurine (beneficial for cardiac health) thanks to the crickets. The square-shaped treats are small in size and easy to break into pieces, making them ideal for training. Each individual treat is only 3 calories, which can be helpful for dogs who are on any kind of weight management plan. These treats are made in the United States using high-quality ingredients and are formulated without corn, wheat, soy, or fillers.
2. The Petz Kitchen Cricket Powder Dog & Cat Supplement
Packaged in a powder format, this cricket protein can be used as a treat topper for your dog's food, or it can be used in your favorite homemade dog treat recipe. The cricket powder is 70% protein and is high in fiber, amino acids, calcium, vitamin B12, and omega-3 and omega-6 fatty acids. It's also gluten-free for dogs with an intolerance or sensitivity. For an enriching and protein-packed treat, combine the cricket powder with bone broth and freeze it in an ice cube tray or a hard rubber toy like the KONG Classic.
3. Jiminy's Puffed Dog Treats, 4.2-oz Bag
These puffed treats are a fun, textured snack to give your dog. They're made with human-grade ingredients like corn meal, lentils, fava beans, rice flour, sunflower oil, nutritional yeast, as well as crickets. The puffs come in two flavors: Nooch Puffs (nooch is short for nutritional yeast) and Peanut Puffs. In an effort to reduce "carbon pawprints," the crickets farmed for these treats save 200 gallons of water per treat bag compared to similar treats made with more traditional protein sources. Jiminy's cricket treats are easily digestible and can be a good option for dogs with sensitivities. These treats are also low-calorie and packed with digestible prebiotics to help your furry friend feel their best.
4. Chippin Cricket Jerky, 5-oz. Bag
These soft and chewy jerky treats were developed to have a low environmental impact while being irresistible to dogs. The cricket-based treats also contain sweet potato and carrot to support overall gut health. The crickets in these treats are a great source of protein and contribute to beneficial gut bacteria. Each 5-ounce pouch has about 30 treats and saves over 150 gallons of water compared to animal protein-based dog treats. You can occasionally purchase the jerky treats on Amazon, but they were all sold out at the time of publishing.
5. Bugsy's PB Cricket Bites
If your dog prefers crunchy biscuits, opt for these peanut butter cricket bites from Winnie Lou. They're made with protein-rich cricket flour, peanut butter, Blue Spirulina (a nutrient-rich algae), and Ashwagandha (an herb that helps regulate cortisol). The treats come in a 5-ounce pouch that's fully compostable. Plus, 3% of the Colorado-based company's proceeds are donated to local rescues.
RootLab is an eco-conscious dog food brand owned by Purina. They offer kibble made from cricket protein and invasive species proteins including Asian carp and wild boar. Their cricket-based offering is technically adult dog food but the kibbles could be used as treats for training or in a treat-dispensing dog toy—the 5-pound bag is only $10 if you're interested in trying it out. This high-protein pet food is a source of 10 essential amino acids and can help support a dog's overall immune system and muscle health. It doesn't contain any artificial colors, flavors, or preservatives. As an added bonus, it comes in fully-recyclable packaging and is delivered to your door via UPS carbon-neutral shipping.
7. Wilder Harrier Blueberry and Honey Cricket Dog Treats, 4-oz. Bags, 2-Pack
These cricket dog treats were made specifically for dog training. Each treat is pea-sized and contains 2.4 calories, so you can reward your dog with quite a few of them during your training session. The treats are soft and breakable, and won't make a mess in your treat pouch. Made in Canada by Wilder & Harrier, the treats are made with fresh, organic ingredients. Pictured here are the blueberry and honey treats, but they also come in pumpkin and carrot. The company claims the treats are hypoallergenic, but be sure to check the ingredients list before giving any to your dog if they have known allergies or sensitivities. The cricket treats are low in fat, high in protein, and contain only 2.4 calories each. They're also packed with calcium, iron, and nine essential amino acids for a sustainable and nutritious reward.
8. Hoppers Cricket Protein Dog Treats - Hayride, 5-oz. Bag
Hoppers' Hayride dog treats are all about fall flavors—think oats, pumpkin, apples, and cinnamon. They're so tasty your dog won't even know the protein comes from crickets. The treats are made in the United States by a woman-run company and don't include any soy, animal by-products, corn, antibiotics, or fillers. The treats are rich in omega fatty acids, which can help reduce inflammation, strengthen the immune system, and improve skin and coat health. And because they're made with crickets, the treats are allergen-friendly for many dogs. Each 5-ounce bag contains about 35 dog treats. If your pup isn't a fan of the Hayride flavor, the treats also come in 'Hound Dog,' which features peanut butter, banana, and, of course, cricket protein.