When holiday shopping for the dog lover on your list, there are two possible gifting routes you can take. The first is to purchase something meant for human enjoyment, such as a pair of socks with their pet's face on it. The second option is to purchase something meant for the dog that the owner will benefit from too, like a stylish poop bag dispenser. You may also want to look for customized items—think pet portraits, ornaments, and apparel—that feature your gift recipient's best canine friend. Here we've rounded up 10 unique and personalized gift ideas for dog owners and their furry friends this holiday season.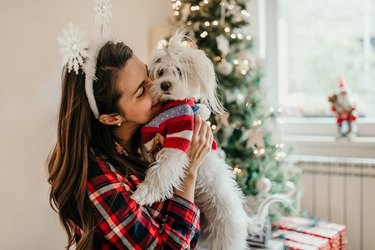 What to consider when purchasing a gift for a dog lover
‌Delivery Date:‌ If you need the gift to arrive before Christmas, be sure to check the expected delivery date. Shipping deadlines will vary by brand, but the most common cut-off date for standard shipping in 2022 is Tuesday, Dec. 20. If you wait too long, you may need to pay extra for expedited delivery.
‌Design Preferences:‌ When purchasing a gift for a dog lover, take their design taste into consideration. Think about how they have their house decorated and what they like to wear. You may also want to verify their dog's breed (or breed mixes) and size if you're opting for a more personalized gift.
‌Personal Touches:‌ When picking out a special gift for a devoted dog parent, consider buying something one-of-a-kind that's personalized with the dog's name or likeness. These types of gifts are a thoughtful way to recognize the recipient's love for their dog. Personalized and/or handmade items are available in a range of price points, so you're sure to find something that fits your gifting budget. These types of gifts are like keepsakes that the pet parent will treasure for years to come.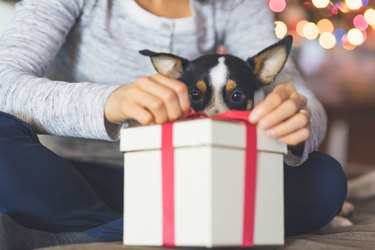 For the dog lover who enjoys interior design, this gold-finished hound lamp is a beautiful addition to any room. It's compatible with 100- to 120-volt electrical outlets and has an included cotton lampshade and a white fabric-wrapped cord. The lamp has a convenient on/off switch on the cord and works with lightbulbs up to 40 watts. This piece is an aesthetically pleasing way to bring a bit of dog-loving whimsy into any space, whether it be a living room, bedroom, or home office. Other breed options for the lamp include a dachshund, corgi, and retriever.
2. PupSocks Custom Winter Socks
The perfect holiday gift for any dog lover, these socks are custom-made with your dog's (or dogs') faces on them! They're made and shipped from Atlanta, Georgia and a portion of every purchase goes toward rescue dogs in need. There are multiple holiday (and not holiday) themed background options, so you'll be able to select the perfect gift for whoever you are shopping for. The easy-to-use website allows you to upload a picture (or multiple pictures if you would like the socks to feature up to four pets) of the dog's face, which is then printed onto the ultra-soft socks. You can even include details on how you would like the picture cropped when it appears on the socks. This one-of-a-kind gift is sure to bring a smile to any dog lover's face and comes in sizes for kids, women, and men.
3. DecorianDesign Gold Baroque Oak Pet Bed
For the dog lover who has everything, consider gifting something elaborate ... for their dog! This ornate, baroque-style pet bed is a luxury piece of furniture made specifically for dogs. It's inspired by 17th-century furniture with elaborate ornamentation and an included pillow. The bed is made of solid oak that has been finished with nontoxic, water-based metallic paints and stains. It has a quilted, velvet-covered mattress that's available in eight different colors. The mattress can be removed from the bed for spot-cleaning with a wet cloth. There's also a plaque on the front of the bed, which can be engraved with the pet's name for no additional cost.
4. MilkToast Brands Funny Dog People Pens
Each ballpoint pen in this set of five features a different saying that dog owners will get a kick out of. Among the stand-out phrases are "Sorry I can't. I have plans with my dog." and "Tell your dog I said hi!" The pens write in black ink and come in shades of orange, green, and yellow. These pens would be a perfect stocking stuffer or an inexpensive gift for your favorite coworker.
5. Wild One Harness Walk Kit
Treat a dog-obsessed friend to a matching walk from Wild One. This kit comes with a dog leash, harness, and poop bag carrier. Plus, the modern design is both practical and aesthetically pleasing. The harness is lightweight and comfortable for dogs to wear, and the leash is dirt- and odor-resistant. The set is available in a variety of colors to fit anyone and any dog's style. Choose from sizes extra-small to large. You can also opt for a small- or standard-size leash depending on your dog's walking style. With this stylish set, your lucky gift recipient will have everything they need to get out and explore with their fur baby this holiday season.
6. Max Bone Holiday Gift Bundle - Walk
Dog walks can be fun ‌and‌ fashionable with this cream-colored poop bag holder and a pack of biodegradable poop bags! You can attach the poop bag holder to your belt or dog's leash thanks to the chrome carabiner. There's space in the holder for stashing credit cards, IDs, and extra cash, and a dispenser hole at the bottom makes it easy to pull a poop bag when needed. This poop bag holder/wallet means dog owners can pick up a coffee (and, of course, a puppuccino) during their morning walkies. The kit even comes with a roll of biodegradable poop bags in a matching color to complete the look.
7. Furrlio Watercolor Pet Portrait From Photo
A dog is a work of art, and this custom portrait is a thoughtful gift for any pet parent on your list. To order this portrait, send the Etsy shop owner two or three reference photos of the dog you want to be painted. In one to three business days, you'll be sent a proof image of the fur baby painting to approve. Once it's been okayed, the custom pet portrait will be sent off to your gift recipient. You can include multiple dogs in the same painting, and upgrade to large-sized prints. You can also opt to add the dog's name in the space above their likeness.
8. GrapgicDynamics Custom Pet Pillow
This custom throw pillow brings a favorite dog to life in a cuddly, photo-realistic pillow. After placing your order, you'll be prompted to upload a photo of the pet to Etsy Chat. Tip: Well-lit and high-resolution photos that clearly show the dog's face work best. The pillows can be single- or double-sided (double-sided understandably costs more) and are cut to the unique shape of your dog's photo. There are nine different sizes to choose from, and you can pay an additional fee for a custom color along the border of the pillow. Finished pillows are mailed out in five to nine business days.
9. Primitives By Kathy "Work For Dog" Box Sign
This hilarious decorative sign is made of real wood and reads, "I work hard so my dog can have a better life." It has a weathered, rustic finish and features a black and white paw print border around the sides. The sign would make a great stocking stuffer, as it's priced under $10. Your gift recipient could display it on a desk or bookshelf to remind them to keep hustling so their dog can have a sprawling backyard one day.
10. Pendleton National Park Crater Lake Mattress Dog Bed
Taking inspiration from vintage Pendleton Woolen Mills patterns, this plush dog bed makes a lovely gift for the dog lover with a keen eye for design. The bed comes in four sizes and is overstuffed with recycled high-loft memory fiber polyester. Part of the Pendleton National Park Collection, this pattern was created in honor of Crater Lake National Park in Oregon. The bed is covered in 100% polyester, non-pill fleece, so it's attractive ‌and‌ cozy. You can even remove the zippered cover and throw it in the washing machine if it gets dirty. The dog bed is filled and finished in the United States.