130 Famous Cat Names from Pop Culture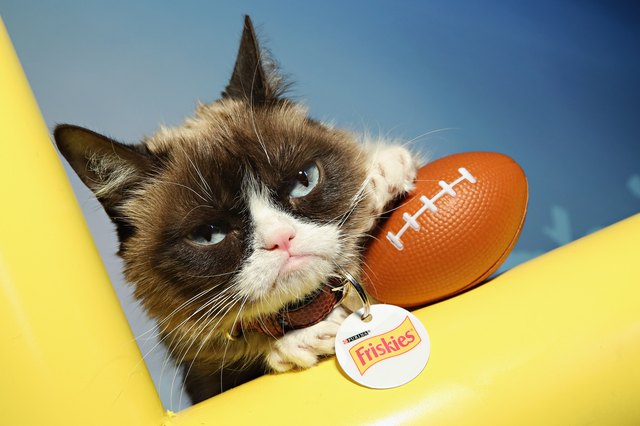 credit:
Cindy Ord/Getty Images Entertainment/GettyImages
If you're obsessed with pop culture, not just any old name will do for your new cat or kitten.
No, you'll need something special and distinctive, something that says as much about your good, discerning tastes as it does about his or her ~catty~ temperament.
If that sounds like you, you've come to the right place, because assembled below are 130 names plucked from across the pop culture spectrum: movies, TV, cartoons, the interwebs, and more!
Famous cat names from movies
• Baby (Bringing Up Baby)
• Blofeld's cat, (From Russia With Love)
• Butch (The Incredible Shrinking Man)
• Charlie (Charlie the Lonesome Cougar)
• Don Corleone's cat (The Godfather)
• Jones or "Jonesy" (Ripley's cat in Alien and Aliens)
• King Leonidas (Bedknobs And Broomsticks)
• Marie, Berlioz and Toulouse (The AristoCats)
• Meowthra (The Lego NINJAGO Movie)
• Milo (The Adventures Of Milo And Otis)
• Mr. Bigglesworth (Austin Powers)
• Neutron (This Island Earth)
• Pyewacket (Bell Book And Candle)
• Sassy (Homeward Bound: The Incredible Journey)
• Si and Am (Lady And The Tramp)
• Snowbell (Stuart Little)
• Thomasina (The Three Lives of Thomasina)
• Tonto (Harry And Tonto)
• Winkie (Escape To Witch Mountain)
• Zunar-J-5/9 Doric-4-7 (Jake, The Cat From Outer Space)
• Baba (Boris Karloff anthology series,Thriller)
• Cringer/Battle Cat (He-Man And The Masters Of The Universe)
• Benny The Ball (Top Cat)
• Midnight (Mama's Family)
• Mimsie (The Mary Tyler Moore Show)
• Miss Kitty Fantastico (Buffy the Vampire Slayer)
• Pandora (The Brady Bunch)
• Rusty (Mission Impossible)
• Salem Saberhagen (Sabrina The Teenage Witch)
• Scratchy (The Simpsons)
• Ser Pounce (Game Of Thrones)
• Spot (Star Trek: The Next Generation)
• Snowball(s) (The Simpsons)
• Toonces the Driving Cat (Saturday Night Live)
• Zazzles (The Big Bang Theory)
Famous cat names from books, cartoons, and pop culture
• Aslan (The Chronicles of Narnia)
• Bagheera (The Jungle Book)
• Behemoth (The Master And Margarita)
• Blinx (Blinx: The Time Sweeper)
• Buttercup (The Hunger Games)
• Carbonel (Carbonel: The King Of Cats)
• Cheshire Cat (Alice's Adventures in Wonderland)
• Church/Churchill (Pet Sematary)
• Crookshanks (Harry Potter And The Prisoner Of Azkaban)
• Diesel (Arsenic And Old Books)
• Ginger (The Tale Of Ginger And Pickles)
• Griddlebone (Old Possum's Book Of Practical Cats)
• Gumball (The Amazing World of Gumball)
• Hats (The Cat In The Hat)
• Heathcliff (Heathcliff)
• Hobbes (Calvin And Hobbes)
• Kitsa (The Indian In the Cupboard)
• Kitty White (Better known as the fictional Japanese cartoon character Hello Kitty)
• Koko & Yum Yum (The Cat Who Had 60 Whiskers)
• Mr. Jinks (The Huckleberry Hound Show)
• Pixel (The Cat Who Walks Through Walls)
• Skat (Rapping cat appearing with Paula Abdul in the video for "Opposites Attract")
• Smarf (Too Many Cooks Adult Swim infomerical)
• Sprockets (Mission To Universe)
• Sylvester J. Pussycat Sr (Looney Tunes)
• Tailchaser (Tailchaser's Song)
• Tigger (Winnie The Pooh)
Famous cat names from the internet
• Choupette (The pet and "muse" of designer Karl Lagerfeld)
• Cole and Marmalade (Adoptees who became huge YouTube celebs)
• Colonel Meow (World record holder for fur length)
• Grumpy Cat/Tardar Sauce (Viral superstar known for dour expression (the result of an overbite))
• Hamilton (The hipster cat with a milk mustache)
• Henri, le Chat Noir (Film noir "existentialist" cat)
• Keyboard Cat (One of YouTube's first memes and breakout stars)
• Lil Bub (Alien cat and star of Lil Bub & Friendz)
• Maru (Japanese cat with a love of boxes)
• Nyan Cat (Rainbow pop-tart streaking across the pixelated cosmos)
• Princess Monster Truck (Famous Brooklynite)
• Sockington (Early Twitter celebricat)
• Waffles (Adorable Scottish Fold without ears)
Famous cat names from history and real life
• Félicette (Cat astronaut sent into space for 15 minutes in 1963 by the French government)
• Humphrey (Chief Mouser to the Cabinet Office)
• Ketzel (Tuxedo cat who won a prize for a piano composition)
• Morris (Spokescat for 9Lives)
• Matilda and Hamlet (Resident cats of the Algonquin Hotel in New York City)
• Mrs Chippy (cat on the Ernest Shackleton expedition)
• Orangey (Famous showbiz kitty who appeared in numerous films and tv shows)
• Room 8 (Stray cat who famously wandered into a Los Angeles school and lived there for a decade or so)
• Schrödinger (Famous thought experiment devised by Austrian physicist Erwin Schrödinger in 1935)
• Snacks (Unofficial mascot of L.A. band Best Coast)
• Socks (Bill and Hillary Clinton's cat)
• Stubbs (Honorary mayor of Alaskan town until his passing in 2017)
• Tabby and Dixie (Abraham Lincoln's cats during his presidency)
• Tibbs (British Post Office's resident cat who lived at their agency's headquarters)
• Tommaso (Italian stray who inherited $13 million dollars from his late owner)
• Trim (Resident ship cat on the HMS Reliance in the early 1800s)
• Unsinkable Sam (Badass survivor of three (3!!!) shipwrecks)
Do you need more inspiration for your new pet's name?
Pets are like our children. We love them, care for them, and we get to dress them up in adorable outfits so it's extra important that we take time to find the perfect pet name that reflects their personality and potential. Because settling on a name for your new pet can be hard and emotionally wrenching (oh the indecision!), we've gathered nine pet-naming techniques to find the perfect fit, as well as assembled a handful of our most beloved lists of pet names below!