Tortoiseshell cats were named for their distinctive coloring, which reminded people of the pattern on – wait for it – tortoise shells. The tortoiseshell cat's coat is usually a combination of black and red, but there are variations that include brown, gray, cream, and orange.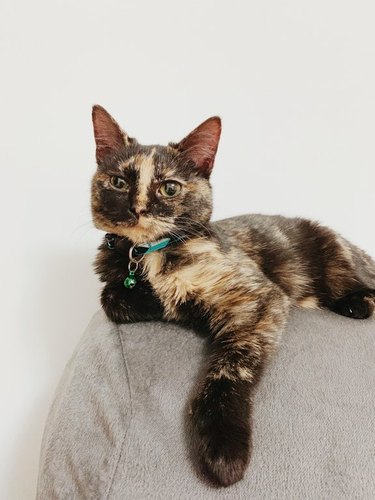 (Only one in 3,000 tortoiseshells are male, so these are mostly female/unisex names, but we've got a few just for the boys.)
Gender-neutral names based on tortoiseshell colors
Agate (Aggie for short)
Amber
Andromeda
Autumn
Brindle
Brocade
Bubbles
Camouflage (Cam for short)
Cookie
Checkers
Confetti (Connie for short)
Dapple
Ditsy
Dot
Freckles
Gingham
Helen (Helen Frankenthaler, painter)
Jaguar
Jasper
Kaleidoscope (Kallie for short)
Ladybug
Leopard
Lynx
Macchiato
Marbles
Matisse
Merle
Mocha
Motley
Muddy
Mystery
Nebula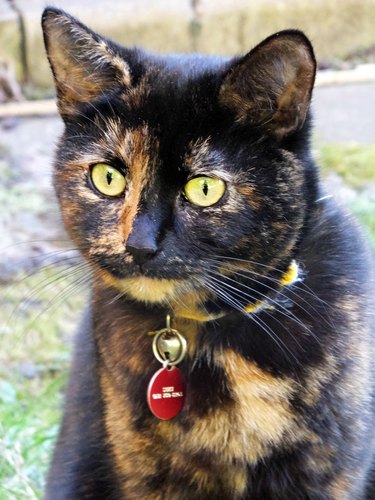 Opal
Oriole
Paisley
Patches
Pebbles
Pinto
Pixel
Polka
Polly (short for Polychrome)
Puzzle
Rainbow
Rorschach
Salsa
Sketch
Smudge
Snicker
Speckle
Sprinkle
Splash
Splotch
Spot
Stipple
Streak
Sunset
Swirl
Tiger
Tortie
Twix
Tourmaline
Names based on tortoiseshell colors for male cats
Damien (Damien Hirst, painter)
Frank (Helen Frankenthaler, painter)
Henri (Henri Matisse, painter)
Jackson (Jackson Pollock, painter)
Mars
Monarch
Picasso
Piebald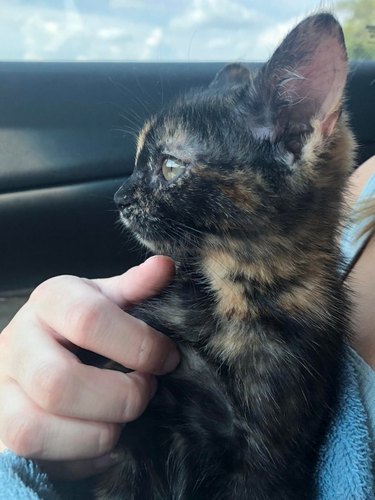 Lucky names for tortoiseshell cats
Tortoiseshells are associated with good luck in some cultures (especially the males, since they're so unusual). It's also said that tortoiseshells bring money, have psychic abilities, and can see into the future. Here are some names based on fortune, luck, and foresight.
Cassandra
Chance
Clover
Dione
Felicity
Gypsy
Jinx
Kahina
Karma
Kiaria
Kismet
Lakshmi
Lucky
Magic
Mystery
Oracle
Penny
Prosper
Quigley (Joan Quigley, psychic)
Rarity
Sachiko
Sarava
Serendipity
Sharmin
Sybill
Tashi
Trixie
Ventura
Yoshi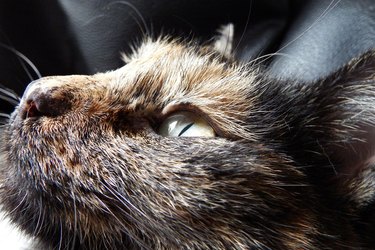 Lucky names for male tortoiseshell cats
Criswell (The Amazing Criswell, psychic)
Edwin
Felix
Madoc
Merlin
Nostradamus
Onni
Otto
Uri (Uri Geller, psychic)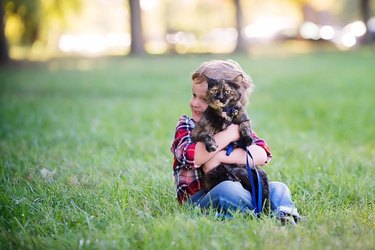 Feisty names for tortoiseshell cats
Let's not forget about the so-called "tortitude." Tortoiseshells have a reputation for being especially feisty. Here are some names to reflect your cat's sassy spirit.
Anita
Annalise
Brienne
Buffy
Cayenne
Cinnamon
Cordelia
Curry
Dean
Diva
Elle
Feist
Fox
Furiosa
Ginger
Hermione
Hunter/Huntress
Katniss
Korra
Nayera
Paprika
Pepper
Piper
Rebel
Red
Regina
Rizzo
Rogue
Queen
Sassy
Spice
Willow
Xena
Do you need more inspiration for your new pet's name?
Pets are like our children. We love them, care for them, and we get to dress them up in adorable outfits so it's extra important that we take time to find the perfect pet name that reflects their personality and potential. Because settling on a name for your new pet can be hard and emotionally wrenching (oh the indecision!), we've gathered nine pet-naming techniques to find the perfect fit, as well as assembled a handful of our most beloved lists of pet names below!