So you've got a hairless cat, but you can't decide on a name? Never fear! We've got tons of names for you to pick from, including classic names, funny names, and unique names.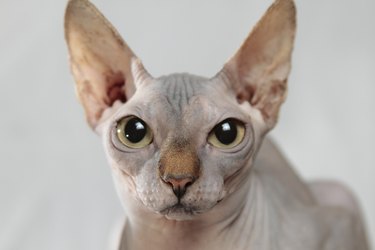 Egyptian names
The Sphynx cat is probably the most famous breed of hairless cat, but despite its mythological name, it's actually descended from hairless cats in North America! Nevertheless, you might want an Egyptian-inspired name.
Male names
Adel
Amon
Anubis
Aton
Heru
Horus
Iah
Osiris
Ra
Ramses
Set/Seth
Seti
Thoth
Tut
Female names
Xanthe
Nefertiti
Bast/Bastet
Hathor
Isis/Iset
Neith/Nit
Funny names
These names are punny, ironic, or sly nods to famous hairstyles from the past.
Funny names for your male hairless cat
Baldo
Baldwin
Baldy
Barber
Bob
Butch
Buzz
Cabello ('head' in Spanish)
Caesar (from Latin for 'hairy')
Calvin (from French for 'bald')
Chrome Dome
Cue Ball
Elvis
Fabio
Fade
Harold
Harry
Hawk
Horace (variation on Horus, Egyptian god)
Jerry
Marcel
Mr. Clean
Pellé ('bald' in French)
Peter (short for Peterbald, a hairless breed)
Professor X
Quiff
Razor
Ringo
Samson
Slick
Spock
Squeaky
Tar ('bald' in Hungarian)
Teddy
Yoda
Funny names for your female hairless cat
Ariel
Belle
Bettie
Cersei
Cleopatra
Dada ('curly hair' in Yoruba)
Farrah
Godiva
Goldilocks
Harriet
Jasmine
Leia
Liberty
Lucille Bald
Marilyn
Pixie
Rachel ('90s kids will get it)
Ringlet
Shirley
Twiggy
Velvet
Venus
Funny names for any hairless cat
Bangs
Buns
Chignon
Cornrow
Cotton
Curly
Feather
Fluffy
Fringe
Furball
Fuzzy
Locks
Moon
Mop
Paige/Page
Peach
Pinky
Shag
Shaggy
Sphinxter
Whiskers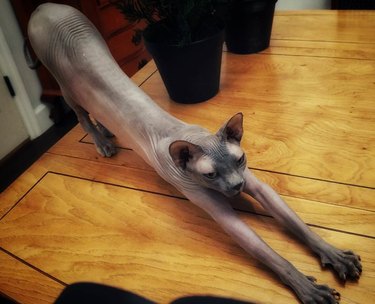 Famous bald people
Want your hairless cat to grow up with a good role model? Here are some famously bald people to inspire your kitty.
Male names
Bruce (as in Willis)
Diesel (as in Vin)
Jason (as in Statham)
Kingsley (as in Ben)
Patrick (as in Stewart)
Seal
Stanley (as in Tucci)
The Rock
Vin (as in Diesel)
Woody (as in Harrelson)
Female names
There aren't a lot of famous bald women out there, so we've included a few who famously rocked a buzz cut.
Amber (as in Rose)
Danai (as in Gurira)
Demi (as in Moore)
Grace (as in Jones)
Lupita (as in Nyong'o)
Natalie (as in Portman)
Rose (as in Amber)
Sinead (as in O'Connor)
Solange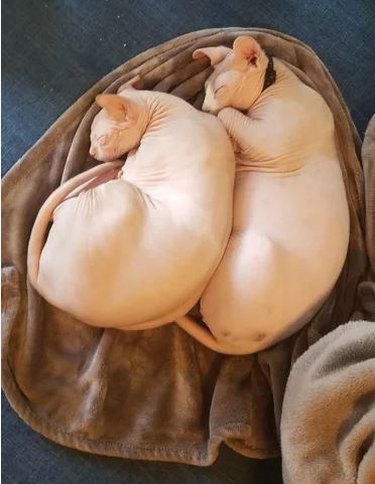 Russian names for your hairless cat
Maybe your hairless cat isn't a Sphynx cat. Maybe it's a Donskoy or a Peterbald, both of which have Russian heritage. If that's the case, we've got some classic Russian names too.
Male names
Aleksandr (Alex or Aleksey for short)
Anton
Dmitry
Igor
Ilya
Ivan
Konstantin
Lev
Maksim
Mikhail
Nikolay
Sergey
Viktor
Vladimir
Yuri
Female names
Agata
Aleksandra
Alisa
Anastasia
Darya
Irina
Nika/Nikita
Sofia
Tatyana
Vasilia
Yelena
Do you need more inspiration for your new pet's name?
Pets are like our children. We love them, care for them, and we get to dress them up in adorable outfits so it's extra important that we take time to find the perfect pet name that reflects their personality and potential. Because settling on a name for your new pet can be hard and emotionally wrenching (oh the indecision!), we've gathered nine pet-naming techniques to find the perfect fit, as well as assembled a handful of our most beloved lists of pet names below!