Sure, you could name your cat some of the common cat names in the English language. There's nothing wrong with a jaunty name like Pepper or a tried-and-true name like Fluffy. But we bet your cat has a little more personality than that, and you want your name for him or her to show that. Here's a list of 122 perfect Spanish cat names for your favorite feline friend. We've also included the meanings of each name to help you find the right fit for your cat's personality, likes and dislikes, and overall sense of character.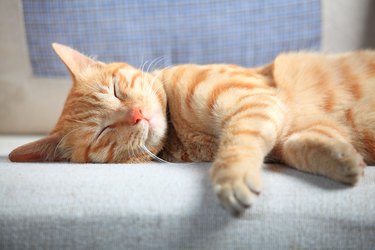 Spanish names for female cats
If you have a female cat in need of a beautiful name, look no further than this list of possible Spanish cat names to get your imagination going. Naming your cat after a word in another language is a great way to exemplify the best things about them, like their beautiful (Hermosa) looks, their sweet (Dulcea) personality, or the fact that they take up your entire heart (Corazón.) Take a look at this list of Spanish names and meanings to find the right pick for your perfect girl.
Corazón (heart)
Biele (dance)
Angel (angel)
Buena (good)
Hermosa (beautiful)
Amor (love)
Aconcia (comets)
Alegría (joy)
Alta (high or tall)
Amata (loved)
Baja: Meaning "short woman," this could be a fun and creative name for a cat with a naturally smaller stature, like a shorthair, Russian blue, or Persian.
Baya (berry)
Blanca (white)
Bonita (pretty woman)
Belita (beautiful)
Bricia (variant of Brigid)
Candela (candle)
Dia (day)
Dulcea (sweet)
Esabella (devoted to God)
Fantasia (fantasy)
Faustina (lucky woman)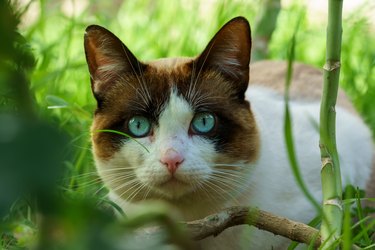 Felicidad (lucky)
Felipa (A woman who is friendly with horses)
Felisa (lucky and successful)
Gitana (gypsy, or wanderer)
Grecia (graceful)
Hija (daughter)
Juanita (feminine form of Juan or John)
Latoya (victorious)
Lavada (pure)
Leonora: This beautiful name, meaning "bright," could be a great option for a bright-haired cat, like an orange or Torti pal, or any feline with a bright personality.
Leya (Loyalty)
Lindo (lovely)
Lucita (little light)
Maria (mother of Jesus)
Madra (mother)
Maite (lady of the house)
Margarita (a delicious drink, a daisy flower)
Mariposa (like a butterfly)
Niña (little girl)
Perla (pearl)
Reina (queen)
Safira (sapphire)
Salsa (a dance)
Santina (little saint)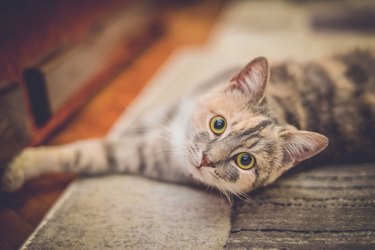 Spanish names for male cats
Our boy Gatos need excellent name options as well, and what better way to acknowledge your best pal than with a Spanish moniker that means something about him? Whether you have a brave (Valiente) boy on your hands, a fluffy (Esponjoso) feline friend, or a portly buddy who's a little wide in certain spots (Gordo,) there's sure to be an appropriate Spanish cat name for him. If you don't see what you're looking for on this list, keep scrolling for more names, or use these definitions as inspiration to help you pinpoint the element of your cat's personality that you want to be showcased in a name.
Esponjoso (fluffy)
Cazador (hunter)
Segundo (second)
Pequeño: Perfect for the little guys, this term means "small," and can be used in conjunction with another term or name for your cat (ex.— Pablo Pequeño means "Small Paul.")
Bueno (good)
Hermoso (beautiful)
Amante (Lover)
Cerveza (beer)
Allegro (music)
Valiente (brave)
Dulce (sweet)
Leonor (bright)
Sanche (blessed one)
Tequila
Alfonso (noble)
Amado (loved)
Carlito (young Charles)
Chico (boy)
Luz (light)
Nacho
Oro: Meaning "gold," this term could be a perfect name for a light-haired feline, or any cat who embodies wealth, worthiness, and all things luxurious in life.
Reyes (kings)
Rico (rich)
Ronroneo (purr)
Suave (soft)
Tipo (Kind)
Feliz (Happy)
Niño (little boy)
Noche (night)
Lindo (pretty)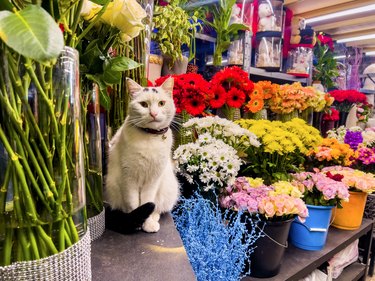 Hermoso (handsome)
Loco (crazy)
Feroz (Fierce)
Peludo (furry)
Bigotes (whiskers)
Sombra (shadow)
Caliente (hot)
Corto (short)
Fuerte (strong)
Gordo (fat)
Joven (young)
Seguro (safe)
Vivo (alive)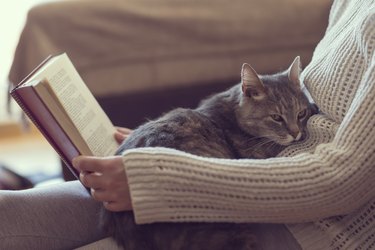 Spanish names for cats that are inspired by nature
If you appreciate the outdoors and everything that comes with it, then a nature-inspired name might be the perfect pick for your cat. Nature names can include anything you consider to be part of the natural world, including elements, landscapes, animals, weather, and even cities if that's what nature means to you! Check out these cat names in Spanish that are inspired by natural beauty.
Brisa (breeze)
Carmelita (little garden)
Cascada (waterfall)
Cielo: Meaning "sky" or "heaven," this name is perfect for male or female cats who aren't necessarily looking for a gender-specific name.
Eriella (lioness)
Estrella (star)
Flor (flower)
Florita (flower or blossom)
Gata (female cat)
Gato (male cat)
Jacinda or Jacinta (hyacinth flower)
Lión (lion)
Lluvia (rain)
Lobo (wolf)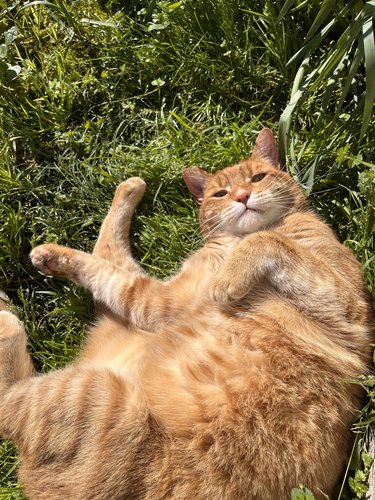 Lora (like the laurel)
Lupe (wolf)
Luza (light)
Montaña (mountain)
Niebla (fog)
Nieve: Meaning "snow," this could be a great name for a white cat, or any cat with a calm personality and serene energy.
Osa (female bear)
Oso (bear)
Paloma (dove)
Playa (beach)
Rio (river)
Rosita (Little rose)
Selena (Moon goddess)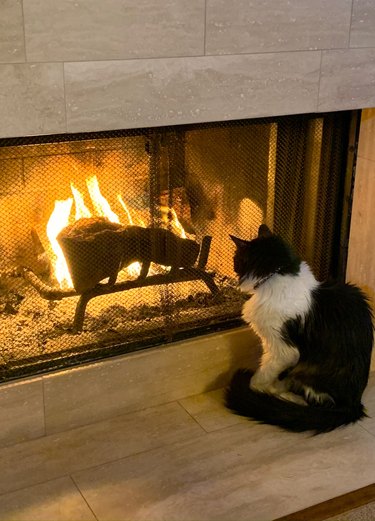 Selva (jungle)
Sierra (mountains)
Silvi (from the woods)
Tiburon (shark)
Tierra (earth)
Tigre (tiger)
Do you need more inspiration for your new pet's name?
Pets are like our children. We love them, care for them, and we get to dress them up in adorable outfits so it's extra important that we take time to find the perfect pet name that reflects their personality and potential. Because settling on a name for your new pet can be hard and emotionally wrenching (oh the indecision!), we've gathered nine pet-naming techniques to find the perfect fit, as well as assembled a handful of our most beloved lists of pet names below!