House cats may be the furry friends we cuddle up with at the end of the day, but despite being domesticated pets, they still possess a lot of the traits they inherited from their wild ancestors. Much like hunting, stalking, and being active at twilight, eating grass after and between meals is a natural habit for cats when it's provided. Cat grass kits make it easy to keep grass in the house for your feline friend, providing them access to important minerals, along with vitamins A, B, and D. Additionally, cat grass is rich in folic acid and chlorophyll, and aids in digestion thanks to its rough texture and high fiber content, making it a treat that's equal parts healthy and entertaining. Cat grass is usually sold in kits that come with soil and a container, so all it needs is a sunny window and a little water to keep your cat happy.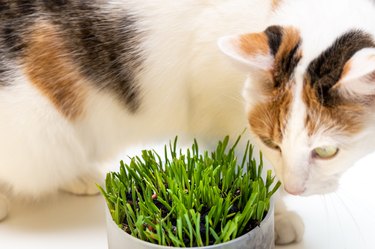 What to Consider When Purchasing a Cat Grass Kit
​Size:​ Cat grass grow kits come in a variety of sizes, so the amount of grass your cat or cats can reasonably consume before it starts to wilt is something to consider. On average, cat grass lasts for around two to three weeks before it dies, so you should shop accordingly if you have multiple cats that might run through a small kit quickly or a solitary cat who wouldn't come close to finishing a container before it starts to turn yellow and dry out.
​Seeds Versus Starts:​ Most cat grass kits are sold as just that, kits, which come with grass seeds, some type of growth medium (like pellets or soil), and a container. If you opt to buy seeds on their own, you will have to provide your own container and soil to grow the seeds in. While these kits are pretty easy for even the most inexperienced gardener to sprout and keep alive, some people might prefer grass that's already grown and sold as a live plant.
​Cost:​ Like most things, cat grass kits range in price. You can find cat grass kits for as low as a few dollars to over the $20 mark. Some things that might affect differences in price include organic versus non-organic seeds, the quality and design of the container, the size of the kit, and, if we're being honest, the packaging—as long as the seeds and growth medium are quality, you have a good kit on your hands, regardless of the price.
​Lighting:​ Cat grass does have a relatively short lifespan compared to other indoor plants and window herbs, but it will still need the right conditions to germinate, sprout, and grow in. Seeds and seedlings will need to be kept warm for just a few days, at which point you'll have cat grass on your hands. Cat grass, like all plants, does require sunlight to survive, so if your home doesn't have a room with indirect light to keep this plant in, you might be better off looking for digestive alternatives, like probiotic powder.
The Best Overall Cat Grass Kit
The Cat Ladies Organic Pet Grass Kit
Excellent seeds, an easy-to-use growth medium, BPA-free planters, and included refills—this kit has everything a cat grass grower needs and won't cost a fortune. In fact, the only thing this kit doesn't come with is water and a cat. Shipped with a healthy blend of organic wheatgrass, oat, barley, and rye, the simple kit delivers a healthy dose of essential nutrients, fiber, and entertainment to keep your cat feeling great, physically and mentally. Like most cat grass, seeds will sprout in about four to seven days, and because it comes with compressed soil disks (just drop them in a container and add water), storage is simple and out of sight until you're ready to refill your cat's grass patch at your convenience.
The Best Sprouting Cat Grass Kit
Pet Greens Self Grow Garden Pet Grass
OK, to be fair, just about every cat grass kit is sprouting, meaning the kit comes with seeds that you drop in soil and grow yourself from start to finish. What makes this sprouting cat grass kit a step above the rest is the price and the ease of getting your seeds started. Not a blend, but consisting of wheatgrass only, the seeds that come in this kit are certified organic and GMO-free, and they're already mixed within the growth medium, so you really don't have to worry about anything once you drop the dirt into the tub provided. To keep your grass alive and healthy, the manufacturer recommends trimming the stalks when they reach around five inches and watering your grass about twice a week.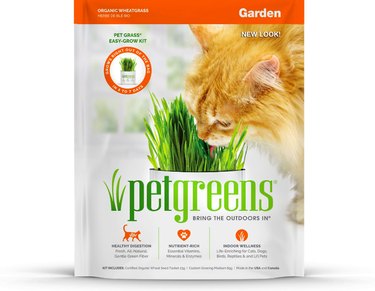 The Best Scratching Cat Grass Kit
Bergan Turbo Scratcher Cat Grass
Cat grass is commonly eaten by cats right out of the container it grows in, or might be sprinkled over food if a cat owner has just trimmed their cat grass plant. While an excellent source of fiber, vitamins, and minerals, cat grass is also a wonderful addition to any cat household for the play it provides some cats who like to paw or scratch around in some fresh green foliage. This item is both, but it's important to state that this toy only works with other toys, namely the Bergan Turbo Scratcher and the Bergan Star Chaser—if you have these items and want to add even more fun to your cat's toys, this is an easy and affordable way to do so. Included with this kit are organic wheat seed and vermiculite, which you just add to the container with water to begin noticing sprouts in about four days.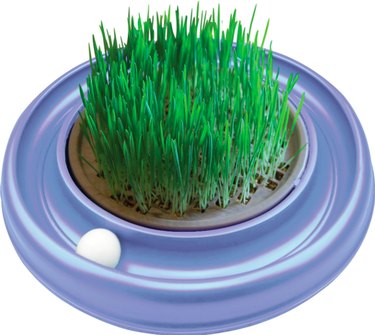 The Best Cat Grass Kit for Gifting
Pet Greens Wheatgrass Live Cat Grass
Cat grass is an excellent gift for any cat owner as most cats enjoy eating or chewing the grass, and the plant is incredibly easy to grow and keep alive. While cat grass kits are plentiful, offering someone an already living plant will save them a little bit of trouble and will allow their cat to get to the fun part as quickly as possible. Containing organic live wheatgrass, all you really need to do with this plant is water it a couple of times a week and keep it in a well-lit room for your cat to enjoy. One thing to note when buying live cat grass—the lifespan of this plant is fairly short, with most plants lasting about two to three weeks. If you notice that a plant is wilted or the grass blades are yellow or thinning, you might want to opt for a different plant as it's possible that that one is nearing the end of its lifecycle.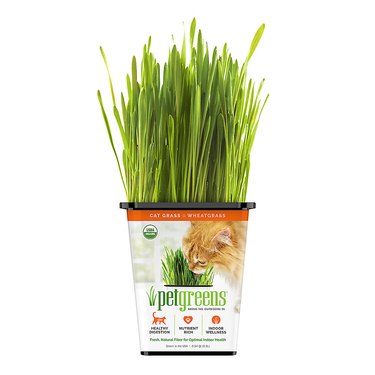 The Best Decorative Cat Grass Kit
The Cat Ladies Cat Grass Kit & Decorative Wood Planter
Cats certainly won't care what their cat grass container looks like, but some cat caretakers may appreciate a cat grass kit that's easy on the eyes and enjoyable to look at. This decorative kit is much pricier than any of the other kits listed here, but it does come with a wooden planter that can be reused over and over again, be that for cat grass or another plant of your choosing. Not only does it look nice, but this kit also comes with a quality product, including a 100% organic, non-GMO blend of wheatgrass, barley, rye, and oats.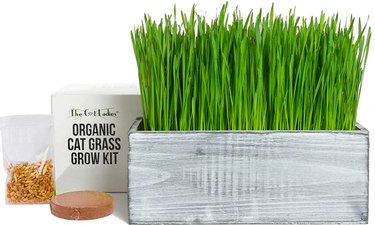 The Best Budget Cat Grass Kit
Imperial Cat Easy Grow Cat Oat Grass Kit
If you want to offer your cat the experience of enjoying live cat grass but don't have the money to spend on an expensive kit (or just don't want to shell out that much for one), don't worry—because you don't have to. Coming in at the price of a cup of coffee, this kit contains one ounce of organic oat grass seeds and a tub that's pre-filled with peat moss, which keeps seeds and grass moist and healthy. Sprouts should begin to appear in about three days, and just like every type of cat grass, will last between two and three weeks, making this an incredibly economical choice for any cat lover.