Aside from shelter and fresh water, food is one of the essential needs that dogs must have met by their dog owners in order to have a healthy life. Finding the best dog food will vary as not every dog has the same requirements, but first and foremost, whatever dog food you choose should be formulated with complete and balanced nutritional requirements. From there, other considerations may come into play, such as your dog's life stage, any medical issues, food allergies, and other sensitivities, and activity levels. Checking your dog's food labels and ingredient list, and understanding what types of foods work best for their bodies, and satisfy their taste, will help you find the best fit.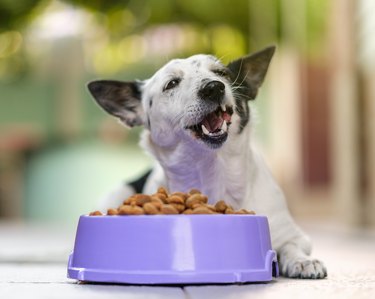 What to consider when purchasing dog food
‌Age:‌ Purchasing food that's formulated for the life stage your dog is in is an essential part of ensuring that they are receiving a balanced diet comprised of enough protein, carbohydrates, fats, and vitamins. Puppy food is generally intended for dogs under one year old, but may extend to 18 months. Food for adult dogs is meant for dogs out of the puppy stage and before they reach senior status. Senior dog food is meant for older dogs, generally older than seven, but this may range from five years to 10 years, depending on the dog. Always consult your veterinarian when shopping for dog food.
‌Medical Conditions:‌ For dogs with medical issues, there are specially formulated foods that are designed to not trigger their condition, or even improve it. Common medical conditions with specially designed food include kidney disease, pancreatitis, Cushing's disease, and skin allergies. Always consult your doctor before putting your dog on a specialty diet, and be sure to consider all medications your dog is taking when shopping for food.
‌Formula:‌ Dog food is offered in a few different formulas, and every dog will have their own preference. Dry kibble and wet food are the most common dog food types, and raw food can come in a variety of forms as well, including crumbles, sausage, dehydrated, and freeze-dried.
‌Price:‌ Finally, the cost of dog food is important for pet owners to keep in mind no matter your budget. Ideally, dogs should stay on the same food for as long as possible as switching food can sometimes cause stomach upset during transitions. We all want to give our dogs the best food possible, but considering whether you can keep up with the costs of certain foods is a practical concern that should inform everyone's decision, ensuring manageable care over the long term.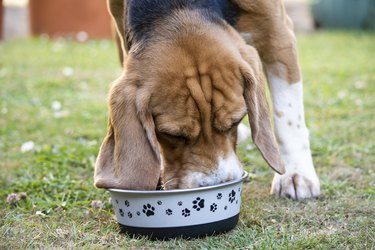 The best overall dog food
Great dog food should be balanced and complete, and taste great to our canine friends. This option from Blue Buffalo is made of quality ingredients and uses deboned chicken as its main ingredient. The formula is free of chicken by-product meal, corn, soy, wheat, and artificial flavors and preservatives, and uses whole grains, fruits, and vegetables to create food that's rich in antioxidants and omega fatty acids. It's also available in five other flavors if chicken isn't your dog's preference.
You don't have to compromise on quality just because you're not spending a ton on your dog's food. This is quality food that uses real chicken as the first ingredient to build muscle in adult dogs. It's rich in omega-6 for skin and coat health and is packed with vitamins, minerals, and glucosamine for joint health. This formula does contain soy, which some dogs are sensitive to, so keep that in mind in case that applies to your dog.
Made with human-grade ingredients, this fresh food for dogs is about as clean as it gets without making it yourself. Made with meat comprised of whole muscle and organs, this dog food is high in protein, antioxidants, and fiber, the latter of which is due in part to the fresh veggies used, like carrots and broccoli. This food was created by a board-certified veterinary nutritionist to ensure that all of your dog's nutritional needs are met, and comes in pre-packaged portions designed just for your dog and their needs, and gets delivered directly to your home. It ranges in price from $2 to $12 per day.
This wet formula dog food is a limited-ingredient variety that's a great choice for dogs who have trouble digesting certain proteins, grains, or other materials. It's made with high-quality ingredients, including lamb as its single protein source, and peas for added vitamins, minerals, and fiber. Other flavor options include fish and sweet potato, turkey and sweet potato, and venison and sweet potato. This food is great for dogs on grain-free diets and is free of common allergens including grains, white potatoes, and chicken. It's also a solid choice for sensitive stomachs that prefer wet food to dry kibble.
A great puppy food should be high in protein, high in fat, and packed with nutritious calories for energy, like this one. It's made with wild-caught fish, free-range chicken and turkey, and cage-free eggs, and uses the meat, organs, cartilage, and bone for protein, minerals, and vitamins. Additionally, this food contains lentils, kale, and pumpkin for added nutrients and fiber, and does not contain any gluten or potato, which are common food allergens for dogs.
The best high-protein dog food
High-protein dog food is needed for certain types of dogs to be at their healthiest, including athletic dogs, working dogs, and dogs who are pregnant or lactating. This pet food contains 32 grams of protein per serving and is offered in chicken and rice, lamb and rice, and salmon and potato flavors. It doesn't contain ingredients commonly known to trigger skin and stomach sensitivities including corn, soy, wheat, and peas. It is formulated with beet pulp and probiotics for healthy digestion and is rich in antioxidants thanks to blueberries, kale, and flax seeds.
The best dog food for pancreatitis
Dogs with pancreatitis require foods that won't trigger inflammation, and low-fat foods have been shown to be best for this condition. This low-fat food contains 10.5% crude fat and is safe for use among all types of dogs, from small breeds to extra-large breeds. It works to balance healthy gut bacteria for a happy microbiome with probiotics and utilizes prebiotics to maintain bowel movements and overall great digestive health. Additionally, this food contains B vitamins and antioxidants, which can be depleted due to kidney dysfunction. This is not a grain-free food and does contain eggs.
The best dog food for seniors
Senior dog diets are formulated to help older dogs maintain a healthy weight, and offer certain compounds like glucosamine for joint health to prevent and relieve conditions like arthritis. This high-quality food keeps seniors happy and healthy as it's packed with omega fatty acids, antioxidants, glucosamine, and beta-carotene and taurine, which contribute to eye health. It's made with GMO-free ingredients, uses deboned chicken as the first ingredient, and contains no meat by-products, preservatives, or fillers. There are 416 calories in each cup of this food to help offset weight loss, which can affect many senior dogs.
The best dog food for sensitive stomachs
Stomach sensitivities affect many dogs, and finding the right food for dogs with sensitive stomachs is important. This food offers two formulas designed to be easy on sensitive stomachs—barley and chicken, and chicken and potato. It uses prebiotic fiber to help keep your dog's microbiome balanced for optimum gut health and contains vitamin E and omega fatty acids to promote a healthy coat and skin. All of the ingredients contained in this formula are sustainably sourced, including beet pulp, which provides fiber for healthy digestion. This is a veterinarian-recommended formula and does not require a prescription to purchase.
The best dog food for kidney disease
Kidney disease requires that certain dietary requirements be met, and this food was formulated by veterinarians and veterinary nutritionists to do just that. It's made with chicken and offers amino acids for building and maintaining lean muscle. Two ingredient levels that should be considered when feeding a dog with kidney disease are phosphorous and sodium, and this food contains lower amounts of both of these minerals to protect the healthy function of the kidneys. This is a prescription dog food, and a veterinarian's approval must be sent to the buyer before it ships.