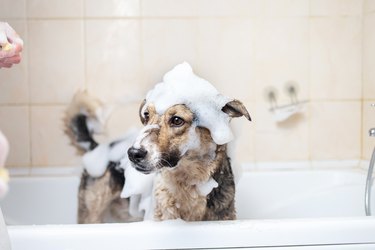 Oh no — did your dog walk on the deck right after you painted it? Did he rub against that big pine in the backyard and get sap residue on his head and ears? As pet owners, learning how to get sticky stuff out of dog hair is just one to-do on the long list of pet cleanliness chores. Sweet, sticky stuff on hair is a small nightmare to be sure, but tackling it with care and some household items is definitely possible. If along the way you have questions about how to clean your dog's fur when she has rolled in something really nasty, you can always call the vet for help and guidance.
How to get sticky stuff off dog paws
If it's sticky, there's a good chance your dog will find it, whether it's pine pitch, paint, gum, candy, fresh tar on the driveway, or even those adhesive mouse and rodent traps you slid under the stove. To remove these gluelike substances from your dog's paws, face, and other body parts, look inside your pantry for vegetable oil or mineral oil (or some butter will work too).
Apply the oil to the sticky area and let it sink in for a few minutes to loosen and soften the tacky substance. Next, wash your pet with a gentle dish soap and warm water. You might have to repeat these two steps more than once (or twice) to get rid of the sticky patch. If it's not working, you may need to use scissors to clip away the mess. Don't worry — the fur should regrow just fine.
Avoid sticky stuff on pet fur
The best way to keep sticky stuff, like candy or gum from the sidewalk, from getting on your pet's fur or paws is to try and avoid it in the first place. To this end, you might protect your dog's paws with little booties when you're outside. Inside the home, always store items your dog shouldn't consume up high and out of reach.
Keeping some baby wipes on hand to use on pet fur and paws is also a smart idea, especially after each walk and play session outside. If tree sap has dripped onto your dog's fur, it can also be loosened with oil and then combed out a bit with a wide-toothed comb. Finish with a bath just as you would with another sticky substance.
Once that sweet, sticky stuff on her hair has been removed, it's time for a warm, soapy bath. This gentle act should be relaxing for your pup, especially if she got worked up over the goo you had to remove from her paws and face. Start with lukewarm water and have a supply of treats handy to reward your pup for sitting still. Use a shampoo made just for dogs and rub it gently into her fur, moving your strokes in the same direction that her coat grows. Don't wash her face with soap and be sure to avoid the eyes, ears, and mouth.
Give your pet a very thorough rinse to be sure all the suds are gone and then use a dog conditioner in the same manner as the shampoo. Once she's free of all the products, towel her with a big towel or a blow dryer on the lowest setting and brush her fur in the direction that it grows to keep it smooth and looking good. A monthly bath is a smart routine to get into, as your pet will become used to the regularity, and you'll have a chance to check her coat, ears, eyes, and paws. This moment in the water is also a good time to bond since your soft touch and voice are calm and soothing to your pet.