An orange tabby seen throwing some wicked side-eye at Hurricane Harvey as it paddled through Houston floodwaters is the internet's new meme du jour.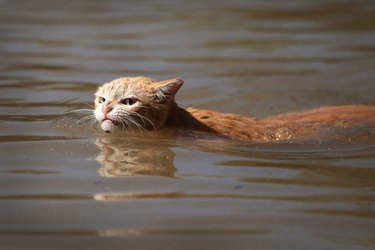 The stunning snap was captured late last month by Scott Olson, a news photographer assigned by Getty Images to cover the aftermath of the deadly storm and its spin up the Gulf Coast.
Because the cat's I-want-to-speak-with-a-manager-right-dam-meow expression was perfectly in sync with the internet's collective rage, it didn't take long for the image of the waterlogged sourpuss to saturate pretty much every social media platform on the planet.
From Twitter ...
... to Facebook ...
... and Imgur ...
... the kitty's now iconic mean-mugging made the viral rounds anchored around the #Harveycat hashtag.
And in the mouser's angry, zero-effs-given countenance, readers and commenters alike found a symbol of hope and perseverance for both life writ large and the people of the rain-battered region.
"Coming soon as the illustration to the 'Adapt or Die' slide in 400 Tedx PowerPoints," joked one woman.
"Climate change is a hoax," quipped another.
"If looks could kill," added this man.
While the badass cat's status remains unknown, it was subsequently photoed taking sanctuary on the top of a parked car.
Here's hoping this very good kitty, thought by some to be feral or stray, is alive and well. We could all learn a thing or two about overcoming adversity from him.