Move over Dos Equis guy because you've got some serious kitty competition for that "Most Interesting Man in the World" title. Cairo the Magnificent cat from the Kenwick neighborhood in Lexington, Kentucky, has a serious case of wanderlust. The adventurous cat often finds himself at all sorts of local establishments that don't usually welcome patrons with paws.
But since Cairo is so exceptional, these homes and businesses often make exceptions. Cairo recently wandered into a local bar named Cosmic Charlie's. And, without asking permission or showing his ID, he simply made himself at home.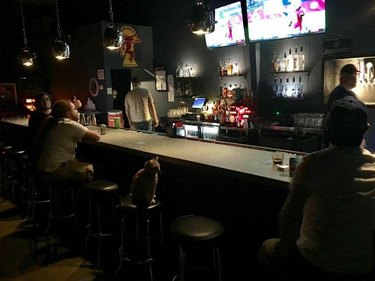 Since he's a local legend, nobody seemed to mind Cairo at all. In fact, he brightened up the place.
At one point, he even took to the stage and put on a little show.
Sure, he didn't do much for the performance. But, hey, his presence should be entertaining enough.
The bartenders didn't seem to mind. And, based on the number of drinks he was offered on Facebook alone, it's likely Cairo was catered to all night without lifting a paw.
Residents in Kenwick have become pretty accustomed to the 7-year-old ginger cat making himself at home wherever he puts his paws up. And his fame in the area only seems to be growing.
From parks and playgrounds to offices, Cairo doesn't believe in limits. Cosmic Charlie's isn't the first time he's delved into the world of booze, either. Not long before that bar adventure, he wandered into a brewery.
Cairo's Facebook page doubles as both a record of his impressive adventures and a place to keep tabs on the wandering kitty. And, it seems like now that he's gotten a taste of the sweet nightlife Kenwick has to offer, area residents can expect to see a lot more of the feisty feline at all the local watering holes.