When the weather outside is frightful—be it rain, snow, or wind—getting your dog enough physical and mental stimulation can be challenging. Even if you can't take your dog for their regular 30-minute walk around the neighborhood, you can provide them with enrichment through toys, games, snuffle mats, and more. Ahead, we've rounded up a list of products that will keep your dog entertained when incelment weather strikes.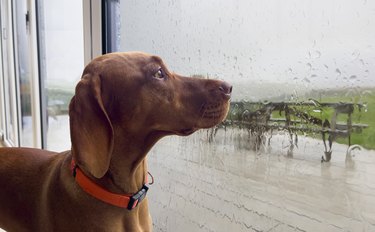 What to consider when purchasing puzzles and games for your dog
‌Size:‌ When purchasing toys and games for enrichment, it's important to keep in mind your dog's size. Some activities are suitable for all dogs, while other toys and games come in multiple sizes with recommended weight limits or breed sizes. Be sure to read the product description before deciding which size option is best for your dog.
‌Space:‌ The size of your space is equally important when purchasing indoor toys and games to keep your pup entertained. If you have a small apartment, you'll want to select activities that are more mentally stimulating. If you have a large, open space in your home like a finished basement or a sizeable living room, you can opt for more high-energy enrichment options.
‌Temperament:‌ Think about your dog's temperament, play style, and preferences when selecting an interactive toy or game for your dog to play with on bad weather days. Clever dogs might enjoy food puzzles and treat-dispensing balls, while energetic dogs might benefit from an indoor agility kit or a soft fetch toy.
‌Supervision:‌ For safety reasons, be sure to supervise your dog while they are playing with these enrichment toys and puzzles. If your dog gets frustrated, step in and help your dog to be successful, and make sure they don't chew off any small pieces that could be a choking hazard.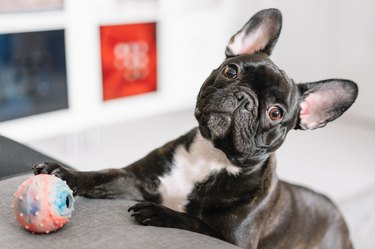 1. Brightkins Spinning Hydrants Treat Puzzle
Exercise your dog's brain and nose with this spinning puzzle toy. To play, put some of your dog's kibble or treats into the three fire hydrants by removing their bonnets. Then, give the puzzle to your dog (you might want to show your dog how it works the first time you use it to prevent frustration or boredom). Your dog will need to spin the fire hydrants, causing treats to fall out. There are two levels to challenge your dog—level one has the hydrant 'doors' completely open, while level two has them partially closed to make retreiving the treats a little more challenging. The toy comes with a training guide written by a certified dog trainer if you find your dog needs some extra help figuring out how to play. The puzzle is made with BPA-free materials and is easy to clean.
2. Piggy Poo and Crew Treat Popper Puzzle Game
If your dog is ready to level up, the Piggy Poo and Crew Treat Popper Puzzle Game presents more of a challenge than the previous entry on this list. To use it, fill up the center dish with kibble or treats and replace the clear lid. Your dog will have to press down on the lid to dispense the goodies into the puzzle area, which features six flippers and two sliders. The treats and kibble are dispersed randomly, and dispensed little by little, so your dog will have to work for their meal. The puzzle is made in the U.S. and comes in green and yellow or blue and yellow.
3. Pet Zone IQ Treat Dispenser Ball Dog Toy
Turn mealtime into a game with this interactive, treat-dispensing ball. Fill the ball with your dog's kibble and/or treats, then encourage your dog to roll, nudge, or chase the ball to dispense the food. This creates a challenging, interactive puzzle game for your dog while they maneuver the ball through the house to get their meal. It's made of hard, durable plastic and has an adjustable insert to control the level of difficulty. The opening can accomodate treats or kibbles that are up to 0.79 inches (2 centimeters) in diameter. Not only does the Pet Zone IQ Treat Dispenser Ball slow down your dog while they eat, but it also can engage your dog in long-lasting, stimulating play to help prevent boredom-related behaviors. The ball comes in two sizes: 3 inches or 4 inches in diameter.
4. West Paw Zogoflex Toppl Tough Treat Dispensing Dog Chew Toy
This puzzle toy is designed to keep your dog engaged and enriched. The hollow toy can be stuffed with dog food, peanut butter, and other soft and spreadable treats and food. The Toppl has inner ridges that trap food to keep dogs engaged for longer periods of time. The toy also rocks and tips as dogs work the food out. Two of these Toppls (a small and large) can be combined for an added challenge for dogs. This puzzle is 100% recyclable and made with BPA- and phthalate-free nontoxic materials in the United States. It can be washed on the top shelf of your dishwasher to keep it clean and sanitized between uses.
5. The Nosey Nose: Nosework Scentwork Training Kit for Dogs, Anise Scent
Curious about the sport of nose work/scent work? This kit is a great way to introduce your dog to the activity while inside your home. The kit is made in the United States and doesn't require any setup. It includes a metal tin with five pouches that are naturally scented with anise seed and corn cob. After introducing your dog to the pouches, you can hide them around the house for your dog sniff out. When your dog discovers one of the scented pouches, offer them lots of praise and treats. There are instructions to three brain games, which get more difficult as your dog progresses, as well as a helpful training guide. Scent work can help alleviate boredom, strengthen the bond between you and your dog, and provide them with mental and physical enrichment when it's too wet or cold to go outside.
6. Chuckit! Indoor Roller Dog Toy
If you have a fetch-obsessed dog on your hands, this soft toy will let them play their favorite game more safely inside the house. The toy is plush and lightweight, so it's less likely to dent, scratch, or break surfaces and household items during playtime. It's also ultra-durable and designed to withstand play from even aggressive chewers. The so-called Bounceflex Core Technology helps protect surfaces and creates an erratic bounce that your pup will love. The toy rolls easily on tile and hardwood floors, and the textured chenille fabric exterior is soft on your dog's mouth. It's also quite absorbent, which means less slobber on your hands when it's your turn to throw the roller.
7. Better Sporting Dogs 5-Piece Complete Starter Dog Agility Set
If you have a larger indoor space for your dog to play, such as a rec room or garage, consider getting them a beginner agility set. This five-piece set includes an adjustable jump, a tire jump, six fixed-base weave poles, a tunnel with sandbags for stability, and a pause box. The kit is easy to break down and can be stored in the included travel case, which would fit neatly under a couch or in a closet. It's suitable for dogs of all sizes and is a fun way to help your dog blow off steam when it's too cold, wet, or windy to play outside. If you're going to set up an indoor agility course for your dog, make sure you have carpet or another non-slippery and supportive type of flooring under the equipment to cushion your dog's jumps and help prevent slipping.
This snuffle mat provides dogs of all sizes with mental stimulation while they search for yummy treats and food. Think of it as an indoor outlet for their natural desire to forage in the grass. The mat measures 18 by 12 inches and is made with sustainably-sourced, nontoxic materials. The fabric strips are long and tubular, mimicing the feel of real grass. This mat is safe to throw in the washing machine and dryer, making it super easy to clean. To use, sprinkle some of your dog's kibble or treats into the mat and then lead your dog to it. The food falls into the fibers of the mat, and your dog can use their nose to figure out where the food is as they explore.
9. Nina Ottosson by Outward Hound Brick Puzzle Game Dog Toy
For dogs of all sizes who have previous experience with puzzle toys, the Dog Tornado offers physical ‌and‌ mental exercise. This interactive puzzle grows with your dog, and allows you to increase the difficulty as they advance. To play, hide your dog's treats in the three levels of bone-shaped compartments. Your dog will have to spin the puzzle with their paws or nose to reveal the treats. You can make it more challenging by placing bone-shaped covers over the treat compartments. The puzzle is made with food-safe materials that are BPA-, PVC-, and phthalates-free. It can be cleaned by hand between uses with warm water and soap.
10. lilfrd Turtle Snuffle Dog Toy
This snuffle toy is ideal for dogs who are just learning about puzzle play. The three-layer plush turtle is made up of 4-inch diameter pockets where you can hide plenty of treats and kibble. The toy has built-in squeakers in the head of the turtle and crinkle paper inside the shell to keep dogs engaged and playing as they hunt for hidden treats. For ease of cleaning when it gets dirty, this snuffle toy can be machine-washed. If turtles just aren't your dog's thing, this toy also comes as an octopus, rose, or snail.