Whether you share your home with a dog of your own or you simply love canines, or if you're shopping for the dog lover in your life, adding an art print to a room can be a great way to elevate any space. Prints are less expensive and more commonly reproduced works by artists that allow more people to access their work as they are often sold in a range of sizes and costs. Shopping for art is fun and can instantly upgrade your space so long as the piece fits in with the rest of your things, both in terms of style and size. We came up with a list of art prints for dog lovers in a range of styles, sizes, prices, and framing options, so (hopefully) anyone can find the print for them, or connect with a new artist that they love.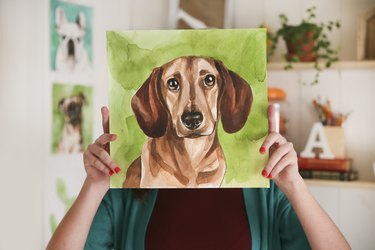 What to consider when purchasing art prints
‌Style:‌ Shopping for art can be so much fun as it offers another opportunity for a person to showcase their personal style and taste. We've attempted to curate a list here with a variety of styles, so if you see something that interests you but isn't quite on point, check out the seller or artist to browse more of their work.
‌Size:‌ If you're shopping for yourself, the choice of sizing is totally your call. If you're shopping for someone else, however, presenting them with a huge print, framed or unframed, may present unseen complications, especially if they're a renter, or if you're not 100% sure of their personal style or tastes. When gifting, smaller is usually better, and standard print sizes, like 8 by 10 inches or 5 by 7 inches, will make framing the easiest.
‌Customizing:‌ For anyone looking for a piece of art that reflects their own dog, you can seek out a custom portrait. Etsy is a great place for having custom pieces made as you can usually just upload a photo of your pup and let the artist take it from there. If you're looking to gift a custom print to a friend, silhouette styles can be a great way to go about this, as are line drawings.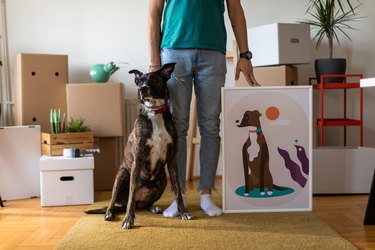 1. GestuelStudio Custom Line Art Pet Portrait
Clean, simple, and likely to fit in just about any living room, this line art is an affordable way to add a custom portrait of your dog to your existing home decor. This is a digital hand-drawn portrait that's printed on high-quality matte paper, or if you like, you can just order the digital file and print it on the medium of your choice. You can customize this work at checkout by including up to five pets in a single piece, and elect to add additional details, like pet names, and a background color of your choice, if you wish. The best thing about this seller is that they send buyers proofs before they get started on the work, so it's guaranteed to be the perfect fit for you.
2. White Dogs On Pink Wall Art
If you're not looking for a portrait of your own dog but just want to spruce up your space with some canine imagery, this colorful print by artist Paige Gemmel is a great way to do that. This dog portrait piece does rest on the higher end of prices on this list, but it does come framed in a wood frame with UV plexiglass to protect your artwork, which is printed on 320 GSM fine art paper with museum-quality ink for a clean, polished look.
3. Visual Art Decor Vincent Van Gogh-Inspired Dog Prints, 3-Count
For something a little more playful, these dog paintings are made with famous works of art by Van Gogh, which are imposed with an image of a canine in sunglasses taking in all the beauty. These are eco-solvent giclee canvas prints that have been stretched and gallery wrapped around pine wood and are ready to hang on your wall. Can't decide which one is right for you? This is actually sold as a set of all three for under $40, so you can hang them together or space them out around the home or office.
4. Shiba Inu The Great Wave in Night Art Print
"The Great Wave" by Hokusai is a classic piece, and this print adds a bit of humor to it by including a sea of Shiba Inus in place of the sea foam. Available in five sizes, this matte-finished print is custom trimmed for easy framing. It's printed on 100% cotton archival paper that's acid- and lignin-free, and each print is made to order. This wave print is created with a dark, night sky background, although the seller does offer a lighter, daytime print as well.
5. Stupell Industries Dirty Dog Soap Co Vintage Sign
Looking for a retro throwback image to add to your space, or shopping for some white and black dog wall decor to gift to a friend? This old-school soap company logo by Daphne Polselli is canvas art that's stretched over a wood frame for a look that's clean, and a piece that's ready to hang—no hardware required. This canvas painting is a great option for pet lovers who are looking to add something simple yet dynamic to the walls of a bathroom, laundry room, mudroom, or grooming business, and it's sold in four size options, so anyone is sure to find the perfect fit for their needs.
6. Eye Spy Framed Art Print
This cubism-inspired piece can add a little pop of color and creativity to your home without overwhelming it thanks to the minimalist style, cool color palette, and black and white pit bull-type dog subject placed in the center. It's printed on natural white archival paper with a matte finish and is offered in six size options. This piece is sold as a framed print that's covered in shatterproof acrylic, and you'll be able to make it your own with any of the 19 frames to choose from. Each frame comes with either a wire or sawtooth hanger, depending on the size of the piece, so it's ready to hang on your wall right out of the box.
7. EthanHarperArtPrints Golden Retriever Drawing
Looking for something simple that'll match any room? This hand-drawn print of a dog waiting at the door for their human companion to return is a great option to consider. It's sold in seven sizes and is a giclee print copy of an original pencil drawing done by artist Ethan Harper. While this piece is listed as a piece of golden retriever art, the dog subject could pass for a number of large dog breeds with shaggy coats as there's no color used in it. Additionally, this work is sold as a print only, unframed.
8. OnLaneAvenue Dalmatian Dog Art Print
If upbeat and fun is more your style, this print featuring Dalmations in various poses might be just what your space is needing. Available in an impressive 11 sizes, this print is a recreation of an original artwork made with watercolor and gouache, and because it's a giclee print, it still looks close to the original. It's made with pigment-based archival ink and printed on cotton archival paper to create a museum-quality piece of pet dog art. This piece is sold as a print only, and the seller does not offer framing at this time.
9. Lara Lee Meintjes Red Interior With Borzoi Dog And House Plants Art Print
For a Matisse-style work of doggie art, this print by artist Lara Lee Meintjes offers a colorful piece that's realistic yet dreamy. This piece is available in four sizes and can be purchased framed or unframed. Each print is made on cotton archival paper that's pressed in Italy, and the optional frames are fitted with plexiglass as a protective cover to keep your artwork in excellent shape over the years.
10. Custom Pet Silhouette Art
This option makes one of the best gifts for dog lovers on this list as it's customizable, yet still understated in a silhouette style, making it a likely fit with any room, regardless of personal style. It can come framed or unframed and is printed with deluxe pigment ink for a striking image that looks luxe. To customize this and create a silhouette image of any dog, simply upload your image into the "personalize" tab, then wait for a designer to send you proofs, and give the OK on your preferred option.
It's not exactly pop art, but this dog poster of a concerned cute dog definitely pops and can bring an element of playfulness to your space. You can choose from four sizes when shopping for this piece, all of which are printed on archival paper with a matte finish. This print is sold unframed but is created with a custom-trimmed border to make matting and framing easy.