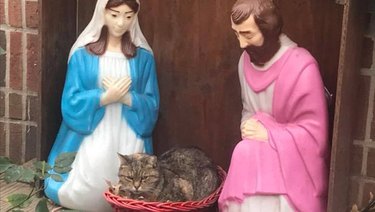 Today in If-I-fits-I-sits: This chunky kittehhh loafing at the center of a nativity scene in New York City.
Like most such depictions, figurines of Mary and Joseph can be seen huddled around a basket, praying in reverence.
But there's one glaring absence: Baby Jesus himself, who has seemingly been displaced from his signature memorial by an angel of the four-legged variety. (Certainly wouldn't be the first time a cat has poached someone's seat ... )
The hilarious images, which have been bouncing around the cute side of the internet all day, come to us from a private Facebook group, where they have piled up more than 7,000+ "Likes" since Monday afternoon.
In an interview conducted over email, the lucky photographer, Brooke Goldman, lent Cuteness some context to the unlikely scene:
"I ran into [the cat] by chance on a walk home from my boyfriend's house to mine. I was on 28th Ave in Astoria, Queens and he was sitting quietly in the front yard of a house. I immediately needed to snap a photo. I thought it was one of the funniest things and his demeanor really enhanced the whole scene. He was a little Grinch ... [and] it made me crack up the whole way home."
Goldman's first instinct was to share the meowy manger with friends and family, whom she "regularly spam(s) with animal photos and memes" (no shame here, Brooke, this is a safe space).
Adding that she has an ongoing competition with her brother, Goldman uploaded the photoset to Catspotting, where she "hoped to beat my last post and ... get a few laughs".
To her surprise, the saintly snaps were received so enthusiastically — "I could get into this religion!" quipped one man in the comments — that they started to spread outside of the Catspotting community:
"I was contacted by The Dodo ... and was shocked when they posted an article that really made the image circulate. Since then, I've been contacted by so many people about the image, I can't get over the whole thing!"
While it was unclear where exactly the heavenly interloper came from, Goldman notes that she walks by this corner regularly and hopes to "check up on him" again soon.
To see more of Goldman's street shots, including a fair number of cats and dogs, bounce on over to her website and / or Instagram.