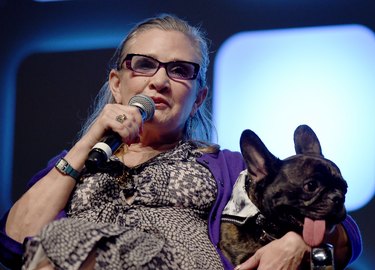 Carrie Fisher's beloved pup and convention companion, Gary, is taking his talents to a galaxy far, far away.
According to Entertainment Weekly, the 5-year-old French bulldog was the inspiration for a new, slug-like creature that will appear in the 7th chapter of the Skywalker saga, Star Wars: The Last Jedi.
While fans had clamored for a tribute, homage, or Easter Egg of some fashion, Rian Johnson, the movie's director, had remained mum on the subject — until this week when he confirmed the good boy's impending star turn on Twitter.
The evidence first surfaced in stills that were published this month by Empire Magazine.
In the background of one shot featuring Finn (John Boyega) and newcomer, Rose (Kelly Marie Tran), an alien humanoid at an intergalactic casino can be seen cradling a wrinkly critter with antennae protruding from the head — a fact that did not go unnoticed by an attentive fan in the UK:
"@rianjohnson we @FanthaTracks want to know if you can confirm this cute little creature is #spacegary in #TheLastJedi", she quizzed.
Less than an hour later, Johnson, who like another Cuteness film fave, James Gunn, is known to interact with franchise obsessives on the microblogging platform, applauded her sleuthing skills and revealed that yes, #SpaceGary, was indeed a real thing.
"YES! Wow, good eyes.", the 43-year-old Maryland native wrote back.
Not surprisingly, the news — and hashtag — quickly started to trend online, where the reactions were largely enthusiastic and much less polarizing than another new addition, the penguin-like porgs.
"I for one, love #spacegary and want a plush of him," volunteered this woman.
"Be still my heart. #spacegary", quipped a second.
"To hell with #PorgNation. To hell with #SpaceDern. I am only here now for #SpaceGary.", declared this man.
Regardless of where you stand on the porgs — who are said to be inspired by puffins that live on the Irish island where part of the movie was filmed — it seems likely that Gary will bring a measure of cuteness that is otherwise lacking (eat your heart out, Ewoks).
We'll know for sure next week when The Last Jedi finally lands in theaters!
Below, a adorable snap of Carrie and Gary from happier times, before the former passed away late last year.
Are you stoked to see Gary's big screen debut? Share your thoughts in the comments below!