Does your dog have his own Instagram? Does your cat have a nicer bed than you have? Do you find yourself browsing more for pet treats and accessories than for human food and clothing? Then this article is for you because we're breaking down the biggest pet trends of 2019.
"But wait," you're thinking. "It's still 2018." Crazy, right? Using our very magical, future-reading crystal ball (and also a survey), we have predictions for the biggest pet trends of next year, just in time for you to change your holiday wishlist. If your pet is trendy as heck (or if you just want him to be), here are the trends you need to be following in 2019.
Tech
First, let's talk about tech because yes, pet tech is a thing now. The world is a crazy place and by 2020, your dog will probably have his own iPhone. According to a survey of 1,000 dog and cat owners commissioned by the Michelson Found Animals Foundation, a non-profit dedicated to saving pets and enriching lives, pets are getting into the smart tech game in 2019.
Pet owners interested in pet tech know what they want and what they want is health tracking for their pets. According to the survey, 47 percent of those interested in pet tech want nutrition apps, 46 percent are looking forward to vet telemedicine, and 31 percent wants fitness trackers for their pets so they can compete in FitBit challenges together and stay healthy.
Not all of the pet tech that people want is health-related, though. Microchips and pet-tracking devices are popular (more than 53 percent of survey takers expressed interest in investing in those in 2019) and 40 percent want to buy a pet monitoring camera next year.
This might feel a little too futuristic, but, to put it in perspective, most American houses now qualify as "smart homes" (but not in the attack-their-owners, Disney Channel Original Movie dystopia kind of way). The survey found that 61 percent of pet owners have at least one form of smart technology in their house—with 56 percent admitting that they own special tech just for their pet. Why the influx of pet tech? It makes pet owners feel good; 57 percent of survey takers said that technology helps them feel more secure about their pet's wellbeing.
The most popular forms of pet tech are health and nutrition apps, pet monitoring cameras, pet servicing apps, and smart toys and those categories are just going to continue to grow in 2019.
The Best Trendy Pet Tech Product to Try in 2019: Pawscout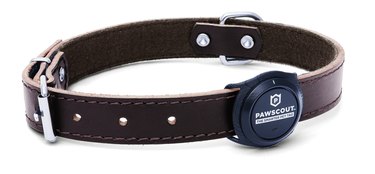 When it comes to 2019's pet tech trends, Pawscout hits all the biggest notes. It's a smart pet tag that connect you to a smartphone app and a whole community of other pet owners. It also tracks your pet's walks (you can even set up a virtual leash that will alert you if your dog wanders out of range on an off-leash hike). Other benefits and trendy features of Pawscout include:
Community Pet Finder: This alerts all other Pawscout-using pet owners in your area as soon as your pet goes missing to help mobilize the troops and get your fur baby home safe as soon as possible. The feature will also send you a notification as soon as your dog (or cat) is within range of any other person with the Pawscout app downloaded—so even if the human involved doesn't spot your pup, you'll get a notification that will help lead you to him.
Digital Profile and Medical Records: Pawscout also allows users to create a full digital profile of their pet including photos, owner contact info, vaccinations, and behavioral or medical issues—this way, if anyone does find your missing pet, they have all the info they need to keep him safe and healthy until you're reunited.
Pet-Friendly Favorites: The Pawscout experience is also social. The app has a map that helps users find (and share) leads and recommendations for local vets and groomers as well as restaurants, stores, and parks in the area that are pet-friendly.
The best part? It's only $19.95 and there's no monthly fee to use the app. YES. TO. THAT.
Health
It's not surprising that health and wellness are trendy areas when it comes to pets—after all, what are we more obsessed with that making sure our pets lead long, healthy, long, happy, long lives?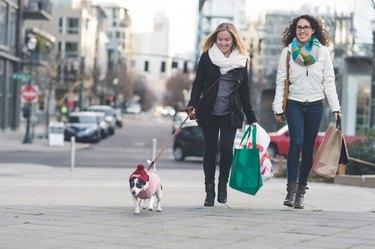 "Pets bring so much joy to our lives, it makes sense that we would treat them as we treat ourselves. But this goes beyond the humanization of pets, these predictions are about people leveraging emerging trends to make it easier to be a good pet parent and take the very best care of their pets," Aimee Gilbreath, executive director of the Michelson Found Animals Foundation, explains. "The macro trend of health and wellness and the increasing number of millennial pet parents are changing the way we care for our pets, and it's an exciting time."
Specifically, pet owners are looking into alternative therapies to treat their pets' woes—at least pet owners who are into alternative therapies for themselves, anyway. Among the survey respondents who had tried CBD- and hemp-based products themselves, for example, 74 percent had also used those products on their pets. Owners who are using CBD- and hemp-based products are using them for a variety of reasons, with 45 percent using them to promote general pet health, 45 percent using them to care for an older pet, 39 percent using them to treat a behavioral issue, and 39 percent as a temporary treatment following something like a surgery or air travel.
Pet parents who use alternative therapies report using them to care for specific medical conditions, as preventative care, or just for general health.
There are some less adventurous alternative pet therapies that are growing in popularity too. More than a quarter of pets have undergone mobility therapies like massage, physical therapy, chiropractic, and acupuncture. And 24 percent of pet parents admitted to turning to alternative therapies as pure pampering for their pets. The most popular just-because treatments for pets? Aromatherapy, reflexology, and naturopathy, apparently.
Additionally, more and more pet parents are turning to pet insurance to make sure that they can afford these alternative treatments (and other treatment for unexpected accidents and illnesses) for their pet should they need it. Pet insurance covers up to 90% of your vet bill and as veterinary care is getting more and more expensive, many pet parents are jumping on the band wagon; the pet insurance market is forecasted to grow over 14% per year, and more and more employers are offering pet insurance as a voluntary benefit. To find out more about coverage and how various providers compare, you can visit third party review site such as ConsumersAdvocate.org, CanineJournal.com, or PetInsuranceQuotes.com.
The Best Trendy Pet Health/Wellness Treatment to Try in 2019: Gerrard Larriett Aromatherapy Pet Care

Aromatherapy is by far the most popular pampering treatment for pets so your fur baby will feel super left out if he or she doesn't get to partake (or you'll feel left out when the other pet parents are talking about the calming effect of lavender and chamomile on anxious pups). Gerrard Larriett Aromatherapy is a great place to start and the company offers a wide range of products, from shampoos to scented candles, all designed to relax you and your pet.
Food
The final big pet trend of 2019 is all about what we use to nourish our fluffy friends' bodies on a daily basis. The overall trend: Pets are eating more like humans and that's going to be even more true in 2019.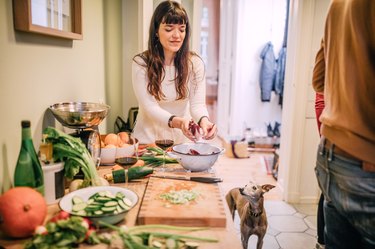 When it comes to dieting, 45 percent of the people surveyed admit to personally following a diet. Of those, 70 percent said they've put their pet on a special diet too. Overall, people are feeding their pets like they feed themselves; about half of all pet owners who eat organic themselves also feed their pets organic diets and the numbers are similar for humans who eat protein-rich diets. About 40 percent of humans who use a food subscription service for themselves also have a pet subscription service.
Of course, not all pet owners feed their pets as well as they feed themselves—most (52 percent to be exact) actually feel like they feed their pets better than they feed themselves. This is especially true for millennials and for dog owners.
The Best Trendy Pet Food Product to Try in 2019: Freshpet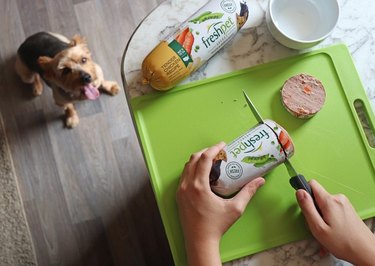 Freshpet specializes in fresh, refrigerated pet food, a trend that's growing in popularity among health-conscious pet parents. Freshpet, in particular, is made from recipes designed by veterinary nutritionists and made from real, U.S.-raised meat and vegetables (which they guarantee are steam-cooked to lock in essential vitamins and nutrients for your beloved furbaby), so it definitely fits the "feeding pets better than we feed ourselves" rule. Bonus: Freshpet is super convenient, with zero prep and minimal cleanup.
tl;dr:
The three biggest trend areas for pet products in 2019 are going to be tech, health/wellness, and food. If you want to stay trendy among the pet parent PTA, invest in wearable tech for your pet (like smart collars and tags), fancy pants, pampering health and wellness treatments, and food that's better quality than what you feed yourself.