We love our pets like members of the family. If we're being brutally honest, in some cases, we love them even more than some human members of our families. And all of that love shows through in the massive amounts of money we spend brightening their days, helping them live their best lives, and, you know, even just meeting their basic needs.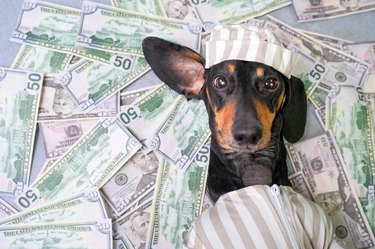 Here's what you need to know about how much Americans spend on their pets (because, be honest, you want to know how your own pet budget compares).
How much do Americans spend on their pets every year?
Before we dive into the nitty gritty, let's talk big picture. According to the American Pet Products Association (APPA), which releases an annual report on pet-related spending, we're spending more on our pets than ever before. In 2018, pet-related spending hit a record-breaking high of $72.56 billion—a 4 percent increase over 2017's $69.51 billion.
Bob Vetere, President and CEO of the APPA, credits millennials with the consistent uptick in pet-focused spending.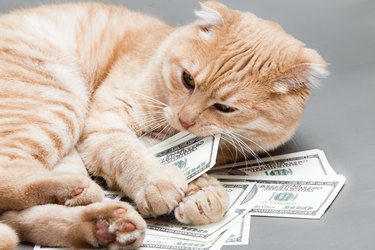 "Millennials continue to be the largest pet-owning demographic and this shows in the data," he said. "We know this generation is willing to pay more for quality products and services to improve the health and well-being of their pets. Today more than ever, pet owners view their pets as irreplaceable members of their families and lives, and it's thanks to this that we continue to see such incredible growth within the pet care community."
Now, let's see how that huge number breaks down—and what additional pet-related spending stats aren't even included in it.
How much do Americans spend on vet visits for their pets?
Every pet owner is familiar with trips to the vet. Whether they're routine check-ups or panicked emergencies, they always end the same way: with someone swiping your credit card. According to the APPA's annual report, Americans spent $18.11 billion on veterinary care in 2018, compared to $17.07 billion in 2017. This makes vet care the fastest-growing spend category, according to the APPA, with a growth rate of 6.1 percent.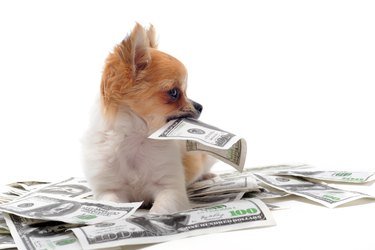 The APPA credits the increased frequency of vet visits with lower prices across the industry, which has made going to the vet more affordable for more pet owners.
"Scientific research from the Human Animal Bond Research Institute (HABRI) shows that the bond formed between people and their pets yields valid health benefits to both pets and their owners," Vetere said of the value add of spending money on your pet's health care. "It's a partnership; if you take care of your pets' health, they're going to take care of yours."
How much do Americans spend on supplies and over-the-counter medication for their pets?
The APPA report puts "supplies and OTC medications" in a category of their own and notes that spending is growing almost as quickly there as with vet visits—up 6 percent since 2017. In 2018, Americans spent $16.01 billion in this category, which includes items like beds, collars, leashes, toys, travel items, clothing, food and water bowls, pet tech products, and other accessories, as well as OTC medications and supplements.
The inclusion of pet tech is important since, as the APPA notes, pet owners are more likely to use digital devices and technology compared to non-pet owners. The more you know, right?
How much do Americans spend on pet insurance?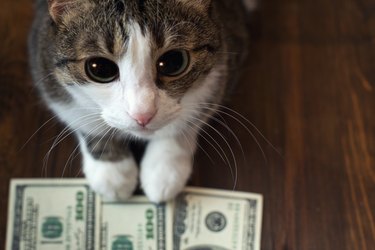 While the APPA's report doesn't include statistics about pet insurance, we know from other sources that it's definitely on the rise as well.
By the end of 2017, 2.1 million pets were insured in the United States and Canada (and that represented a 17 percent increased from 2016).
How much do Americans spend on food for their pets?
According to the APPA's report, food is (and historically has been) the largest spending category for pet-related purchases. In 2018, pet owners spent $30.32 billion on pet food, with premium dog food reigning supreme as the most-frequently purchased type of pet food on the market. "Rather than a higher volume of food being sold, the ongoing growth in this category likely stems from rising prices and sales of higher-priced foods made with quality ingredients," the APPA wrote in a press release for its 2018 report. "An interest in natural, locally-sourced treats and chews has never been higher across U.S. pet owners."
The organization projects even more spending on pet food in 2019, and estimates that Americans will spend $31.68 billion in this category by the end of this year.
"In the coming year, we anticipate steady growth in the pet food category thanks to opportunities that reside in specialized diets, targeting the aging pet population and pets with unique dietary needs," Vetere said. "The availability of fresh food options and subscription delivery programs is also expected to increase spending in this category."
How much do Americans spend grooming their pets?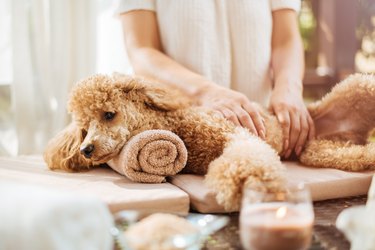 The APPA lumps grooming into its "other services" category, which also includes boarding, walking, training, pet sitting, and yard services. Americans spent a total of $6.11 billion on these services in 2018. This category is notable since it's actually an area where pet owners are spending less than they did in 2017, when they spent $6.16 billion on these services.
Do Americans spend more on dogs or cats?
While the APPA data above is general to the pet industry, the distribution of that spending between dogs and cats is not equal. In it's 2017-2018 National Pet Owners Survey, the APPA found that dog owners spend at least $240 per month caring for their pets, while cat owners spend just $161. Part of the difference is accounted for by the cost of owning each kind of pet—vet visits tend to cost more for dogs, for example—but dog owners also just spend more spoiling their pets than cat owners.