Do you dream of spotting an eerie scepter from across the moors? Do you read Frankenstein and Jane Eyre in your spare time? Then you may not just need a cat, you need a familiar — an animal companion attuned to your spirit that appreciates the dark, creepy side of life right along with you. An otherworldly creature like that deserves a gothic name that truly expresses their soul, which is why we've compiled an epic list of dark and gothic-inspired names for your new feline friend. So take a moment, get in touch with the spooky energies, and see which names vibe with your gothic kitty. Some of these names are gothic, which refers to a particular style of literature, art, and music, while others are simply goth, referring to the subculture known for its love of emo music, eyeliner, and black on black on black.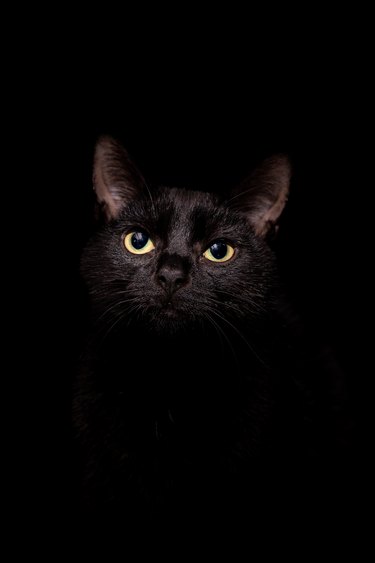 Goth girl names for female cats
Let's face it — cats are the goth kids of the domestic pets kingdom. They've got the best style, they can be equal parts moody/playful with the best senses of humor, and they can keep others away with just one look if that's what they're feeling in the moment. If you have a female feline in need of a name that suits her, check out these goth cat names for furry females.
Shelley
Buffy
Medusa
Vamp
Bella
Elvira
Morticia: A great name for a confident adult cat. Everyone knows who Wednesday is, but Morticia, the matriarch of the Addams family, is covered in black from her hair to her shoes.
Wednesday
Hocus
Winifred
Mysteria
Eerie

Circe
Baba Yaga
Hecate
Kali
Lilith
Maeve
Morgana
Bastet: A protector, and a dependable cat you can count on. Bastet is the Egyptian goddess of protection. She also represented the home, cats, fertility, and childbirth.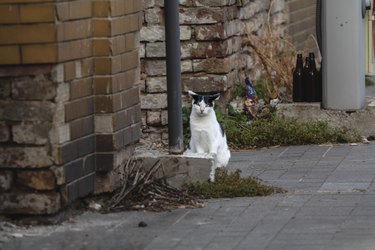 Elvira: A campy, funny kitty. Otherwise known as The Mistress of the Dark, Elvira, played by Cassandra Peterson, is an OG goth girl with a quick wit and funny personality to juxtapose her sultry look.
Akasha
Siren
Witch
Sorceress
Huntress
Fury
Mythia
Eyre
Banshee

Selkie
Sylph
Fay
Pixie
Pandora
Stella
Essence
Endora: A good choice for a light-haired gothic beauty. Known as the mother on the classic TV show Bewitched, Endora is a red-haired goth with colorful, flamboyant style, unlike what most people think of when they hear "goth girl."
Anima
Rebel
Sabrina
Widow
Crystal
Bellatrix
Twilight
Coraline
Trinity
Malficent
Selene
Goth boy names for male cats
Of course, the gothic aesthetic isn't just reserved for the women of the world — there are plenty of goth names that are perfectly well-suited for the boy cats of the bunch. Some of these are taken from pop culture, like Beetlejuice, and others are from classic literature, like Frankenstein. All of these names are great options, or inspirations, for goth cat names intended for your male feline friends.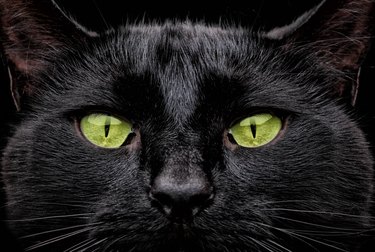 Salem
Binx
Lucifer
Frankenstein
Jekyll
Bram
Poe
Edgar
Haven
Lovecraft
Dracula
Scarface
Slayer
Warlock
Vlad: A cat who's very adept at catching prey. Vlad the Impaler is said to have been the inspiration for the world's most famous vampire, Dracula, and was known for torturing his foes before killing them.
Smokey
Gargoyle
Poltergeist
Rochester
Demon
Bones
Odyssey
Damien
Igor
Diablo
Imp
Duke
Scamp
Dauntless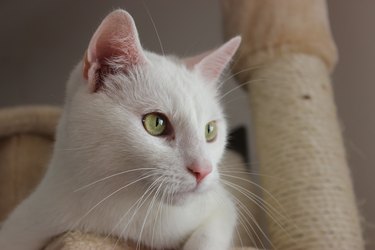 Winchester
Cyclops
Vader
Gremlin
Imp
Puck
Loki
Phoenix
Beetlejuice
Malfoy
Nosferatu
Styx
Dante
Baron
Fang
Troll
Warlock
Slither
Ogre
Kumo
Hades
Gender-neutral gothic names for cats
Looking to name your kitty but aren't necessarily needing to find one that's fit for just the girls or just the boys? Names for pets are often gender-neutral, like Shadow or Echo, and can work for any cat, especially if it undoubtedly suits their personality and character. If you're in search of a gothic cat name that speaks for itself, check out this list of gender-neutral goth cat names for a bit of inspiration.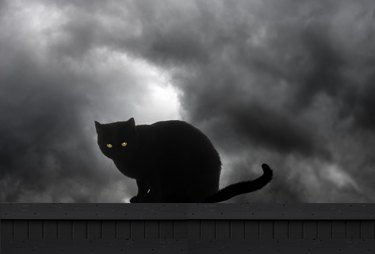 Spooky
Shadow
Raven
Phantom
Ghost
Oracle
Whisper
Creep
Creak
Stranger
Gloom
Curse
Myst
Omen: A fitting name for a mysterious or quiet cat. An omen signifies a prophecy, and an be in regard to something good or bad that's impending on the horizon.
Rogue
Haunt
Leprechaun
Changling
Claw
Scream
Shriek
Nisse
Echo
Soul
Marrow
Wuthering
Psycho
Dusk
Silence
Voodoo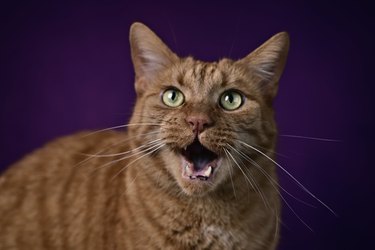 Need more inspiration for your new pet's name?
Pets are like our children. We love them, care for them, and we get to dress them up in adorable outfits, so it's extra important that we take time to find the perfect pet name that reflects their personality and potential. That's why we've gathered nine pet-naming techniques to find the perfect fit, as well as assembled a handful of our most beloved lists of pet names below!