If you're obsessed with pop culture, not just any old name will do for your new dog or puppy. No, you'll need something special and distinctive, something that says as much about your good, discerning tastes as it does about his or her doggy temperament. If that sounds like you, you've come to the right place, because assembled below are 101 pop culture dog names plucked from across the spectrum: movies, TV, cartoons, comics, books, the internet, and more!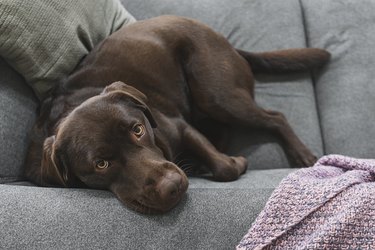 Famous dog names from movies
Do you have a favorite movie or actor that would make the perfect name for your new canine companion? What about a favorite four-legged sidekick from the big screen? Famous big screen dogs like Toto from The Wizard of Oz, and Buddy from Air Bud get a lot of recognition, but there are some lesser-known characters who make a big impression for their part in movies. Take a look at this list of famous dog names from movies for ideas and inspiration!
Asta (‌The Thin Man‌)
Baby (‌Clean Slate‌)
Barney (‌Gremlins‌)

Baxter (‌Anchorman‌)
Beau (‌Iron Will‌)
Beatrice (‌Best In Show‌)
Beethoven: A great name for a big dog, Saint Bernard, or any dog with musical tastes. Beethoven is the Saint Bernard and star of the '90s film franchise, Beethoven. Beethoven is also the name of German composer and pianist, Ludwig von Beethoven, most known for Symphony No. 5.
Benji (‌Benji‌ )

Bingo (‌Bingo‌)
Bolt (‌Bolt‌)

Boomer (‌Independence Day‌)
Brinkley (‌You've Got Mail‌ )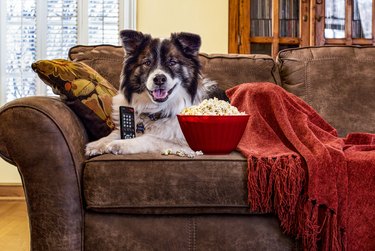 Bruiser (‌Legally Blonde‌)

Buckley (‌The Royal Tenenbaums‌)
Buddy (‌Air Bud‌)

Chopper (‌Stand By Me‌)

Cosmo (‌Guardians Of The Galaxy‌)
Cujo (‌Cujo‌)
Chance and Shadow (‌Homeward Bound)‌

Charlie B. Barkin (A‌ll Dogs Go To Heaven‌)

Clue (‌The Adventures Of Mary-Kate And Ashley‌)
Copper (‌The Fox And The Hound‌)

Daisy (‌John Wick‌)
Daisy (‌Snatch‌)

Daphne (‌Look Who's Talking Now‌)
Dug (‌Up‌)

Einstein (‌Back To The Future‌)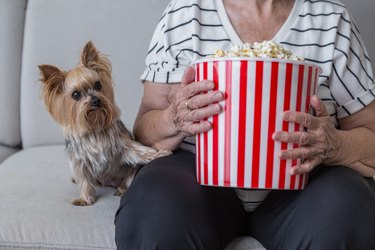 Elvis (‌Don't Tell Mom The Babysitter's Dead‌)

Fang (‌Harry Potter‌)
Flealick (‌Babe: Pig In The City‌)
Flike (‌Umberto D‌)
Fluke (‌Fluke‌)
Fly & Rex (‌Babe‌)
Frank the pug: A great name for a pug! Frank is the alien living undercover as a pug in NYC in the movie Men In Black.
Fred (‌Smokey & The Bandit‌)
Hachi (‌A Dog's Tale‌)
Hercules (‌The Sandlot‌)

Hooch (‌Turner & Hooch‌)

Hosehead (‌Strange Brew‌)

Jack (‌The Artist‌)
Jerry Lee (‌K-9‌)
Jock & Trusty (‌Lady And The Tramp‌)

Killer (‌Half Baked‌)
Lady (‌Lady And The Tramp‌)

Lolabelle (‌Heart Of A Dog‌)
Marley (‌Marley And Me‌)

Matisse (‌Down and Out in Beverly Hills‌)

Max / Wolfie (‌The Terminator & Terminator 2: Judgement Day‌)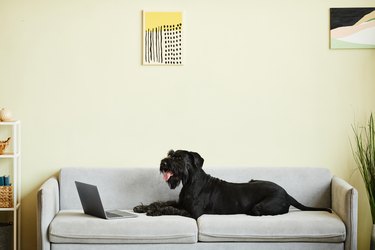 Milo (‌The Mask‌)

Miss Agnes (‌Best In Show‌)

Mother Teresa( (‌Must Love Dogs‌)

Nanook (‌The Lost Boys‌)

Otis (‌The Adventures of Milo and Otis‌)

Perdita & Pongo (‌One Hundred And One Dalmatians‌)

Pippin (‌Jaws‌)
Pixie (‌The Danish Girl‌)
Pizza (‌X-Men: Apocalypse‌)
Pops (‌The Secret Life of Pets‌)
Puffy (‌There's Something About Mary‌)

Quark (‌Honey, I Shrunk The Kids‌)

Reno (‌Top Dog‌)
Rhapsody In White: A great name for a standard poodle, white dog, or any dog with a larger-than-life personality. From the mockumentary Best In Show, Rhapsody in White is the standard poodle who connects Jennifer Coolidge and Jane Lynch's characters in the film.
Rimshot (‌Ernest Goes To Jail‌)
Rin Tin Tin / Rinty (‌Rin Tin Tin‌)

Rocco (‌The Drop‌)
Rocks (‌Look Who's Talking Now‌)
Samantha (‌I Am Legend‌)
Sandy (‌Annie‌)
Scraps (‌A Dog's Life‌)

Shiloh (‌Saving Shiloh‌)
Sirius Black a.k.a. Padfoot a.k.a. Snuffles (‌Harry Potter‌)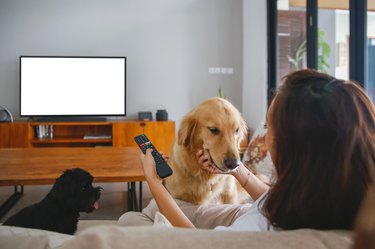 Skipper (‌My Dog Skip‌)

Slinky (‌Toy Story‌)

Sparky (‌Frankenweenie‌)

Speck ‌(Pee-wee's Big Adventure)‌

Snots ‌(National Lampoon's Christmas Vacation)‌
Toto: Perfect for a little dog or adventurous pal. Perhaps the most famous big screen pooch of all time, Toto, who's real name is Terry, is the unlikely star of The Wizard Of Oz, and Dorothy's companion throughout the film.
Uggie (‌The Artist‌)

Verdell (‌As Good As It Gets‌)
Whiskey (‌Blade Runner 2049‌) **

Wilby (‌The Shaggy Dog‌)
William (Patton)
Winky (‌Best in Show‌)
Winn-Dixie (‌Because Of Winn-Dixie‌)
Zero (‌The Nightmare Before Christmas‌)

Zochor (‌The Cave of the Yellow Dog‌)

Zowie (‌Pet Sematary II‌)
Perhaps a small-screen reference is more your thing, or contains a name that's a little more fitting with your furry friend's personality. There are plenty of primetime pooches who stand out, like Astro from The Jetsons, and Eddie, the precocious Jack Russell terrier from Frasier. Even if you don't know and love some of these shows, this list is filled with excellent famous dog names from TV shows that are fitting monikers for many dogs, and future conversation starters for you and your dog park friends.
Arlo (‌Brooklyn Nine-Nine‌)
Astro (‌The Jetsons‌)

Backup (‌Veronica Mars‌)
Bandit (‌Little House On The Prairie‌)
Bear (‌Person Of Interest‌)
Bismarck (‌Checkmate‌)
Blacktoe (‌Star Trek: The Next Generation‌)
Blue (‌Blue's Clues‌)

Brian (‌Family Guy‌)

Bullet (‌The Roy Rogers Show‌)
Cinnamon (‌The Big Bang Theory‌)
Claude (‌The Beverly Hillbillies‌)
Coco (‌The Donna Reed Show‌)
Comet (‌Full House‌)
Dino (‌The Flintstones)‌ *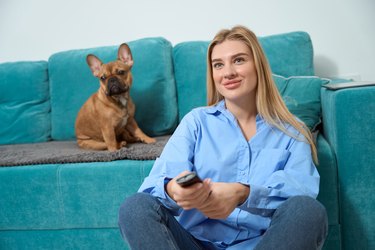 Eddie Crane (‌Fraiser‌)
Fang (‌Get Smart‌)
Flash (‌The Dukes Of Hazzard‌)
Freeway (‌Hart To Hart‌)
Lassie (‌Lassie‌)

Maximillion (‌The Bionic Woman‌)
Mister Peabody: A good name for a beagle, or an extra-smart pup. Mister Peabody is part of a pair with Sherman from the 1960's animated series, The Adventures Of Rocky And Bullwinkle And Friends. Mister Peabody is a brainiac and has all the answers.
Petey (‌Little Rascals‌)

Poochie (‌The Simpsons‌)

Queequeg (‌The X-Files‌)

Ren Höek (‌The Ren & Stimpy Show‌)
Rollo (‌Outlander‌)
Santa's Little Helper (‌The Simpsons)‌

Scooby-Doo ‌(Scooby-Doo)‌

Spike (‌Rugrats‌)

Tiger (‌The Brady Bunch‌)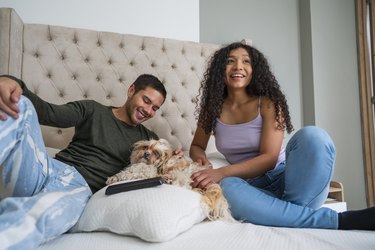 Ubu Roi: The mascot for Ubu Productions, a good name for a fellow black dog. This reference will be known to fans of shows like Family Ties as the "Sit, Ubu, sit" dog that appears at the end of the credits.
Famous dog names from books, comics, cartoons, and pop culture
Binky Barnes (‌Arthur‌)
Brain (‌Inspector Gadget‌)
Buck (‌Call Of The Wild‌)
Buttons (‌Animaniacs‌)
Choppy (‌The Yogi Bear Show‌)
Clifford: A fitting name for any big (or small, who's measuring?) dog. Clifford is the star of the children's book series, Clifford the Big Red Dog, about an oversized, friendly dog who has many adventures.
Dollar (‌Richie Rich‌)
Fifi (‌Rugrats‌)
Fumbles (‌Where's Huddles?‌)
Goliath (‌Samson And Goliath‌)
Goddard (‌The Adventures Of Jimmy Neutron: Boy Genius‌)
Gromit ( ‌Wallace And Gromit‌ )

Jelly Roll (‌Jibber Jabber‌)
Jollop (‌Engie Benjy‌)
Krypto (‌Krypto The Superdog‌)
Marmaduke ( ‌Marmaduke‌ )

Mr. Peanutbutter (‌BoJack Horseman‌)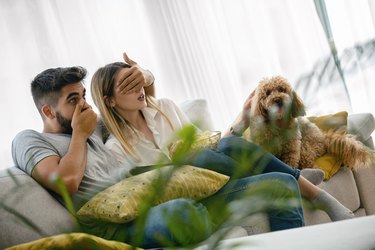 Lockjaw (‌The Fantastic Four‌)
Lomax (‌Lomax, The Hound Of Music‌)
Max ‌(How The Grinch Stole Christm‌‌as!)‌
McBarker (‌What's New Mr. Magoo‌)

Mr. Peanutbutter (‌BoJack Horseman‌)

Mumbly (‌The Mumbly Cartoon Show‌)
Odie (‌Garfield‌)

Pluto: A good name for a blonde dog. Pluto is a cartoon character created by the Walt Disney Company, and Mickey's pet pal. Pluto is also the Roman name for Hades, the Greek god of the underworld, and the name of a former planet.
Rowlf (The Muppets)

Rump (‌DinoSquad‌)
Seymour (‌Futurama‌)
Snert (‌Haggar The Horrible‌)
Snoopy (‌Peanuts‌)

Spuds MacKenzie (80s spokesdog)

Snowy (‌TinTin‌)

Streak (‌Green Lantern‌)
T-Bone (‌Clifford The Big Red Dog‌)

What-A-Mess (‌What-A-Mess‌)

Yukk! (‌Mighty Man‌)

Famous dog names from the internet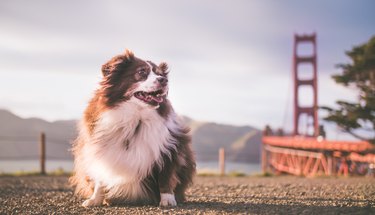 Famous dog names from history and the real world
Balto (Husky that helped deliver medicine to Nome, Alaska, that prevented an outbreak of disease)

Bo and Sunny (President Obama's dogs)

Bullseye (Target's official mascot)

Checkers (President Nixon's dog)
Chips (the most decorated dog of World War II)

Dinky: A great name for a small dog, or a funny name for a big one. "Yo quiero Taco Bell." Are you old enough to remember that catchphrase? Dinky is the name of the chihuahua for Taco Bell commercials from the '90s.
Hachikō (Japanese Akita Inu famed for meeting his owner at the train station every day after work)

Hank (adopted stray that became the unofficial mascot for the Milwaukee Brewers)

Laika (Soviet space dog)
Nipper (RCA logo dog)

Peritas (Alexander the Great's favorite dog)

Tinkerbell (Paris Hilton's chihuahua and favorite fashion accessory)

= Technically not a dog, but certainly doglike
** = Technically nameless, but the pup laps up whiskey when offered so here we are.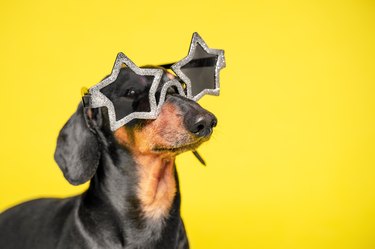 ‌Did we miss your favorite famous pooch? Share it with us in the comments below!‌
Do you need more inspiration for your new pet's name?
Pets are like our children. We love them, care for them, and we get to dress them up in adorable outfits so it's extra important that we take time to find the perfect pet name that reflects their personality and potential. Because settling on a name for your new pet can be hard and emotionally wrenching (oh the indecision!), we've gathered nine pet-naming techniques to find the perfect fit, as well as assembled a handful of our most beloved lists of pet names below!