Like humans, dogs are prone to developing joint pain and arthritis as they age. While this is a natural part of aging, there are options available to manage your dog's discomfort. One popular choice is the joint health supplement Cosequin. The brand manufactures many different products all designed to help strengthen and maintain your dog's cartilage and joint tissue.
Cosequin Regular Strength, Cosequin DS, and Cosequin Maximum Strength contain the active ingredients chondroitin sulfate, glucosamine hydrochloride, and manganese ascorbate. The Cosequin Senior product only contains chondroitin sulfate from that list but also incorporates omega-3 fatty acids and methylsulfonylmethane. Even with the change of ingredients from product to product, all formulations were created with the same goal: to address joint issues and improve mobility.
Cosequin can help improve a dog's mobility
Dogs may react differently from one another when given a nutritional supplement. While one dog may see great benefits, another may not see much of a benefit at all. Some supplements show more reliable effects than others.
Many dogs do respond favorably to Cosequin. When it works as intended, it can provide moderate to enhanced relief from arthritis pain and an increase in overall mobility. This makes it a great option for dogs who are less active, stiff, or uncomfortable when getting up or for those who have difficulty with activities like standing, sitting, and navigating stairs. It may also help to reduce discomfort in dogs with elbow and hip dysplasia.
Cosequin for dogs isn't an instant-fix solution. Pet owners who decide to try this supplement are encouraged to watch for gradual improvements in their dog's comfort level. This includes seeing an increased interest in going for walks, playing with their favorite toys, climbing the stairs, or even just getting up. Many owners say that as the pain subsides, they also notice an improvement in their dog's overall attitude.
Should your dog take Cosequin or anti-inflammatories?
While some dogs will thrive with just Cosequin, it is not a replacement for anti-inflammatories in more serious cases. Often, a regimen that includes both will be needed to address your dog's pain and discomfort. To decide which one you should be giving your dog (or if both are necessary), contact your veterinarian to discuss your dog's specific needs.
Side effects of Cosequin in dogs are uncommon
Although side effects from Cosequin are rare, there is the possibility that your dog may experience gastrointestinal upset. The most prevalent symptom is diarrhea, but vomiting, indigestion, and an overall upset stomach have all been reported on occasion. These side effects are more common when first introducing the supplement to a dog and anytime that it is given without food. To help minimize or prevent negative adverse effects, dispense the pills after meals or with food.
The initial dosage of this joint supplement is higher until the dog starts to respond positively. On average, this will take four to six weeks, though some dogs may show a response sooner. During this time, your dog may also experience a decrease in appetite. The side effects typically subside relatively quickly as your dog responds to the drug and moves into a maintenance dose.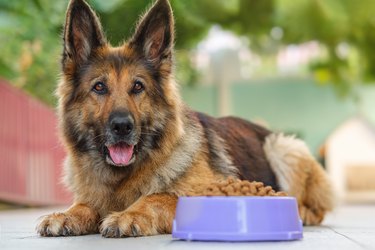 Dogs allergic to beef products may have a reaction
Dogs who have an allergy to beef products can have allergic reactions when they take the chewable tablets, which contain beef. Beef is one of the most common food allergens in dogs along with other popular proteins, like lamb and chicken. Symptoms of an allergic reaction may include hair loss, excessive scratching, hot spots, skin infections, and an increased incidence of bowel movements.
If you notice any of these symptoms in your dog, stop giving them Cosequin immediately and contact your veterinarian. They may suggest that your dog switch to Cosequin capsules to eliminate the allergen.
Cosequin is a joint health supplement that can be used to address joint problems and osteoarthritis in dogs. It is often used to address mobility problems that are seen in aging dogs either on its own or in conjunction with anti-inflammatories. While side effects are rare, some dogs may experience gastrointestinal upset when first introduced to the supplement. You can prevent or reduce these side effects by offering Cosequin with dog food.